Prof. Dr. Andre Guettler
Director of the Institute
Andre Guettler holds a doctoral degree from Goethe University Frankfurt. Before joining Ulm University in April 2013, he was Assistant Professor and Heisenberg Scholar at EBS Business School. During that time he visited National University of Singapore, University of Texas at Austin, Tilburg University, and Coppead Business School. His research concentrates on Financial Intermediation as well as Quantitative Asset Management. The German Science Foundation (DFG) has been supporting three research projects and his Heisenberg Scholarship. Since June 2016, he has been appointed as Research Professor at the Halle Institute for Economic Research (IWH).
Download CV
"Prüfungsausschuss Wirtschaftswissenschaften"
Please carefully read the information given here. In particular, you have to submit *ALL* information to Vanessa Fink. Note two things: a) you only lose time if you send your documents/requests to Professor Guettler, because he will delete your emails if you do not follow the guidelines; b) use your official uni-ulm.de email address while sending emails to Ms Fink!
Consultation-hours
Here you find my consultation hours. Please write an email to receive a spot in one of these consultation hours. Mention your request and the exact date and use your official university email address.
Selected Publications
Gender and Banking: Are Women Better Loan Officers?, with T. Beck and P. Behr, Review of Finance 17 (2013), 1279-1321
VoxEU column, NY Times Economics Blog, The Wall Street Journal Economics Blog
The Impact of Public Guarantees on Bank Risk Taking: Evidence from a Natural Experiment, with R. Gropp and C. Gruendl, Review of Finance 18 (2014), 457-488 (lead article)
VoxEU column, Ökonomenstimme column (in German)
Best paper award - Conference of the German Finance Association 2010
EFA 2010, AFA 2011
Working Papers
Financial Incentives and Loan Officer Behavior: Multitasking and Allocation of Effort Under an Incomplete Contract, with P. Behr, A. Drexler, and R. Gropp
EFA 2014, AFA 2015
Semifinalist best paper award in the category financial markets and institutions, Financial Management Association 2016
R&R JFQA
Public Guarantees and Allocative Efficiency, with R. Gropp and V. Saadi
EFA 2015, Day-Ahead Conference of the Fed San Francisco 2016, FIRS 2016, BHC/BoE/CEPR/CFM conference on Finance, Investment and Productivity 2016; Chicago Financial Institutions Conference 2017, MIT Golub Center for Finance and Policy Conference 2017
German Research Foundation, grant number 3596/3-1
European versus Anglo-Saxon Credit View: Evidence from the Eurozone Sovereign Debt Crisis, with M. Altdörfer, C. De las Salas, and G. Löffler.
International Conference on Credit Analysis and Risk Management 2017
German Research Foundation, grant number GU 984/3-1
Do Firms Benefit from their Relationships with Credit Unions during dire Times?, with L. Aghabarari, M. Naeem, and B. Van Doornik.
SGF 2018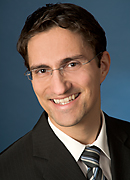 Contact
Prof. Dr. Andre Guettler
room: 205
phone: +49 (0) 7 31/50-3 10 30
e-mail: andre.guettler (at) uni-ulm.de

I receive many e-mails asking about

admissions, research opportunities, etc.

I cannot read all of them, so please

don't be offended if you do not receive

a response to an e-mail.
Address:
University of Ulm
Institute of Strategic Management and Finance
Helmholtzstraße 22
89081 Ulm
Germany