The Core Facility "Confocal and Multiphoton Microscopy" of the Faculty of Medicine has existed in its current size since spring 2013. It is a facility specialised in molecular imaging that provides a unique spectrum of optical microscopy and is open to all scientists from the Faculty and University.
New methods, e.g. PLIM ("phosphorescence lifetime imaging") are developed and evaluated for a wide range of applications. The development of genetically encoded sensors for the activity of signalling cascades or the physiological state of cells in culture and model organisms are also part of the expertise of the Core Facility. For molecular imaging, methods are used and developed that allow the imaging of deep layers of three-dimensional samples and also the observation of individual cells with high spatial and temporal resolution.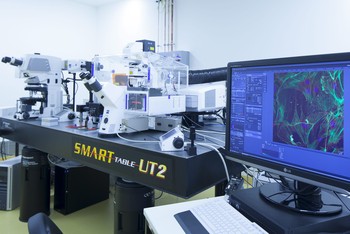 Laser scanning microscopes with highly sensitive detectors and ultra-short pulsed femtosecond laser technology are available, as well as inverted microscopes for confocal long-term imaging. Protein interactions can be elucidated with a suitable FLIM detector (FLIM "fluorescence lifetime imaging"). FLIM technology is also used to analyse the autofluorescence of different tumour cells and tissues and to determine cell metabolism. The facility provides expertise in the field of confocal and multiphoton microscopy, data analysis, evaluation and interpretation as well as the conception and implementation of experiments.
More Information
The Core Facility "Confocal and Multiphoton Microscopy" offers services and guidance for all scientific questions concerning live cell microscopy. These services are:
Instruction in the confocal and multiphoton microscope with the aim of working independently.
Instruction in time-resolved microscopy, e.g. FLIM and spectrally resolved FLIM.
Instruction in the HTS confocal microscope for long-term live cell observations.
Supervision of all microscopic work if required.
Individual conceptualisation of the microscopic work, including selection of the appropriate fluorophores, excitation and emission criteria.
Help with the optimisation of the experiments
Help with the evaluation and use of new image processing programmes and algorithms.
Ensuring that the microscopes function properly from a technical point of view, e.g. regular adjustments as well as organising any maintenance work.
Organisation and booking user's measurements slots according their requests.
Organisation and holding of workshops, or further training measurements if needed.
Developing and implementing new techniques, carrying out research projects.
The following scientific configurations are currently available:
Upright intravital microscope Zeiss LSM 7 MP
Inverted confocal microscope Zeiss LSM 710
Mai Tai AX HPDS fs-pulsed Ti:Sapphire laser
2-channel TCSPC hybrid system for FLIM
16-channel multispectral FLIM system
System for phosphorescence lifetime measurements (PLIM)
Spectral resolution LSM 510
Leica TCS SP8 with HyVolution module
Standard cell culture laboratory
Computer and analysis software
Different research fields are currently using the facility with different techniques:
Alzheimer's research
Cell-cell adhesion
Transport processes
Cell metabolism
FLIM of NADH and FAD
FRET-FLIM
FRAP
Trauma research
Photoconversion
Nanophotonic
Nanoparticle research
Photodynamic therapy (PDT)
Ageing research
Stem cell research
Developmental biology
Tumour biology and metastasis
Sepsis research
Wound healing
User Fees*,**
* In German, please inquire if you need assistance.
** Internal users only, external users please inquire.
Core Facility Konfokale und Multiphotonen Mikroskopie
Universität Ulm
N24/4105
Albert-Einstein-Allee 11
89081 Ulm