M.Sc. Philipp Hock
Philipp Hock ist im Mai 2015 der Abteilung Human Factors beigetreten. Davor war er seit 2008 Student an der Universität Ulm im Bereich Medieninformatik.
Philipp hat einen M.Sc. in Medieninformatik (2015) von der Universität Ulm.
Kontakt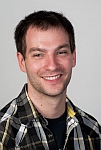 Philipp Hock
Wissenschaftlicher Mitarbeiter
✉ Philipp Hock
☎ +49-(0)731/50 26508
℻ +49-(0)731/50 31749
Π 41.01.103
Sprechzeiten
nach Vereinbarung
Forschungsinteressen
Persuasive Technologien
Autonomes Fahren
Augmented Reality
Wearables
Ubiquitous Computing
Scriptsprachen
Webtechnologien
Systemnahe Programmierung
IT Sicherheit
Lehre
Vorlesungen, Projekte und Seminare

Research Trends in Media Informatics (Seminar: MedienInformatik)
Kommunikation wissenschaftlicher Ergebnisse (Seminar: Psychologie)
User Interface Software Technology (Vorlesung/Übung: MedienInformatik
Driver-Vehicle Interaction (FOV: Psychologie)
Human-Computer Interaction (Projekt: Medieninformatik)
Audi-AppChallenge (Individualprojekt: Medieninformatik)




Betreute Abschlussarbeiten

Implementation and Evaluation of an In-Car Entertainment Application for Virtual Reality, Sebastian Benedikter, 2016, Medieninformatik.
Eine empirische Untersuchung zum Einfluss eines virtuellen Beifahrers auf die Aufrechterhaltung der Automation in riskanten Überholsituationen, Nina Lang, 2016, Psychologie.
Empirische Untersuchung zur Wirkung unterschiedlicher Anreize auf Fahrsituationen, Raul Degenhart, 2016, Psychologie.

Offene Themen für Abschlussarbeiten

Bei Interesse schreiben Sie mir einfach eine Mail oder kommen in meinem Büro vorbei.
Projekte
CarVR: Enabling In-Car Virtual Reality Entertainment

CarVR enables virtual reality entertainmen in moving vehicles. We enhance the VR experience by matching kinesthetic forces of the car movements to the VR experience.

Carvatar

Carvatar was built to increase trust in automation through social cues. The prototype can imitate human behavior, such as a humanoid gaze behavior or by calling attention to specific situations. The avatar can be used to establish a cooperative communication between driver and vehicle. 

Belt: An Unobtrusive Touch Input Device for Head-worn Displays

Belt is a novel unobtrusive input device for wearable displays that incorporates a touch surface encircling the user's hip. The wide input space is leveraged for a horizontal spatial mapping of quickly accessible information and applications. We discuss social implications and interaction capabilities for unobtrusive touch input and present our hardware implementation and a set of applications that benefit from the quick access time.
Wissenschaftliche Tätigkeiten
Reviewer für CHI 2017
Reviewer für AutomotiveUI 2016
Reviewer für AutomotiveUI 2015