Dr. Charlotte Roy
| | |
| --- | --- |
| Since June 2017 | Postdoctoral researcher, Department of Applied Cognitive Psychology, University of Ulm |
| 2013-2017 | PhD in Human Movement Science: "Effect of audio-tactile rhythmic stimulation on the coordination of movements". Supervisors: Dr. Julien Lagarde and Pr. Simone Dalla Bella, EuroMov laboratory, Montpellier University. |
| 2012-2013 | Master's degree, "Human Movement Science", Montpellier University. |
| 2009-2011 | Master's degree, "Cognitive and Experimental Psychology", Montpellier University. |
| 2006-2009 | Bachelor in Psychology, Montpellier University. |
Contact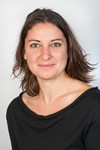 Charlotte Roy
Research assistant
✉ Charlotte Roy
☎+49 731/50-32055
℻ +49 731/50-32059
Π 43.2.216
Research Interests
Charlotte Roy's main research focused on the interaction between multisensory processes and the sensorimotor system. Specifically, she investigated the effects of audio-tactile integration on walking.
The research in the Appl. Cogn. Psyc. Group will focus on the role of prior knowledge during human navigation.


Current projects
"Humans and other mobile animals move about their environments in order to get to places with food, mates, shelters, margaritas and other resources" (Montello, 2003, p257). As pointed out, the ability to navigate is major in human and animal life. In our lab we focus on the ability of updating one's position and orientation during travel, therefore our main objective is to gain new insights and a better understanding on this particular skill. To update their positions, animals, including humans, rely on two main processes/strategies: landmark-based and path-integration. The former uses features of the world -landmarks- (e.g., external visual and/or auditory cues), the latter keeps track of velocity and/or acceleration of our own movements (e.g., proprioception and/or vestibular information).
Regarding the landmark-based process, in the GoBackHome project investigates the permanency of a landmark as a probabilistic feature for navigation. For example, to go back to your parked car you will rather choose a church than a truck as a landmark. We wonder how do human learn this feature?
Regarding the path-integration process, in the MovingInCircle project we explore why humans are not able to move straight. Since dominance and biomechanical explanations have been ruled out, we hypothesize a major role of the vestibular system (supported by a random walk model).
Finally, we merge both processes with the Good&Poor project, which focuses on the role of these two processes on the differences of navigational skills, i.e., good versus poor navigators.