Elke Sälzle worked since 2012 as a secretary at the Lab of Work and Organizational Psychology.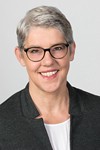 Elke Sälzle
Secratariat
✉ Elke Sälzle
☎ +49-(0)731/50 31741
℻ +49-(0)731/50 31749
Π 47.1.263
Consultation hours
Due to the current Corona situation, the secretariat is only manned sporadically. You can make an appointment in advance by email.