Elke Sälzle has been working as a secretary at the Department of Work and Organizational Psychology since 2012.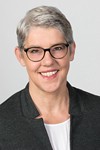 Elke Sälzle
Secratariat
✉ Elke Sälzle
☎ +49-(0)731/50 31741
℻ +49-(0)731/50 31749
Π 47.1.263
Consultation hours
The administration office is staffed Tuesday and Thursday ca. 8am to ca. 3pm (except for break and vacation times). We recommend arranging personal contact via e-mail.