2018
Dr. rer. nat in Human Factors with the dissertation title: "Developing a Model-Based Lane Change Decision Aid System by Integrating Driver Uncertainty"
Since 2018
Postdoctoral researcher at the Department Human Factors at Ulm University
2017
Research Assistant in Human-Centered Design Group at OFFIS - Institute for Information Technology, Oldenburg
2015 – 2016
Research Assistant at the Department of Media and Multimedia Systems of the University of Oldenburg
2013 – 2014
Research Assistant in Human-Centered Design at OFFIS - Institute for Information Technology, Oldenburg
2013
Internship in the Human-Machine Interaction Group at Light Laboratory, Hella, Lippstadt
2012- 2013
Student Assistant in the Department of System Ergonomics, Institute of System Ergonomics, DLR, Braunschweig
2010 – 2013
M.Sc. Human Factors at Technical University of Berlin, Germany
2005 – 2009
B.Sc. Psychology at University of Qingdao, China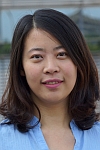 Fei Yan,
Research Assistant
✉ Fei Yan
☎ +49-(0)731/50 26504
℻ +49-(0)731/50 31749
Π 45.03.111
Consultation hours
Semester: Tue 3:00 - 4:00 PM
Semester break: on appointment
Empirical investigation and modeling Driver Uncertainty in lane change maneuvers
Adaptive driver assistance
Trust in automation
Driver Automation Cooperation in Automated Driving
Publications in Google Scholar
2019
Yan, F., Eilers, M., Weber, L., & Baumann, M. (2019, October). Investigating Initial Driver Intention on Overtaking on Rural Roads. In 2019 IEEE Intelligent Transportation Systems Conference (ITSC) (pp. 4354-4359). IEEE.
Yan, F., Karaosmanoglu, S., Demir, A., & Baumann, M. (2019, September). Spatial visualization of sensor information for automated vehicles. In Proceedings of the 11th International Conference on Automotive User Interfaces and Interactive Vehicular Applications: Adjunct Proceedings (pp. 265-270).
Löcken, A., Yan, F., Heuten, W., & Boll, S. (2019). Investigating driver gaze behavior during lane changes using two visual cues: ambient light and focal icons. Journal on Multimodal User Interfaces, 13(2), 119-136.