Sarang Jokhio
| | |
| --- | --- |
| Since 10/2020 | Research Assistant at the Department of Human Factors, Ulm University |
| 2017-2019 | Research Assistant, Smart Traffic Research Lab, Korea National University of Transportation, Uiwang, South Korea |
| 2017-2019 | Master of Science in Transportation System Engineering, Korea National University of Transportation, Uiwang, South Korea |
| 2013-2016 | Bachelor of Engineering in Civil Engineering, Mehran University of Engineering and Technology, Jamshoro Pakistan |
Mr Sarang Jokhio is currently a Marie Curie Early Stage Researcher and a doctoral student at Department of Human Factors. His current research is focused on human factors in Autonomous Vehicles under 'SHAPE-IT' project. More specifically he is investigating cooperative interaction strategies between Automated Vehicles and mixed motorized traffic. Before Arriving in Germany, he was a research assistant at Smart Traffic Research Lab at Korea National University of Transportation (KNUT), South Korea. He completed his Master of Science degree in Transportation System Engineering from KNUT in August, 2019. During his Masters in South Korea he worked on different projects funded by Korean National Police Agency and other government organisations. Most of his work during masters was focused on development and calibration of microscopic traffic simulation models. He also worked on two other projects related to traffic safety and driver psychology. During his Masters, he got interested in automate vehicles and human factors research. He then completed his master's thesis on intersection control for connected and autonomous vehicles. Mr. Jokhio also holds a bachelor's degree in Civil Engineering from Mehran University of Engineering and Technology, Jamshoro, Pakistan.
Contact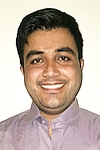 Sarang Jokhio
Research Assistant
✉ Sarang Jokhio
☎ +49-(0)731/50 xxxx
℻ +49-(0)731/50 31749
Π 41.3.103
Consultation hours
on appointment
Research interests
Interaction and cooperation between automated vehicles and motorized road users
Human Factors
Traffic safety
Publications
Kim, Jin-Tae., Cho, Yong Bin., Jokhio, Sarang., (2019). "Reviewing Changing Patterns of Degree of Saturation affected by Various Conditions in Field for the Next Real-Time Traffic Signal Controls", Transportation Research Board, 98th Annual Meeting, TRB, Washington DC, USA.
Jokhio, Sarang., Kim, Jin-Tae., (2019)., "International Drivers' Comprehension of Traffic Control Devices: A Case study for Foreign Drivers Living in South Korea".10th International Civil Engineering Conference, Karachi, Pakistan
Hussain, Shahid., Jokhio, Sarang., Kim, Jin-Tae., (2019). "Study on Reducing Delay, Fuel Consumption and Emissions on an Urban Arterial Network Using Traffic Flow Optimization", Korean Institute of ITS Conference, Jeju, South Korea
Kim, Jin-Tae., Kim, Joo-Young., Jokhio, Sarang., (2018)., "Study on Drivers' Perception-Reaction Times Against Different Types of Traffic Signals", ITS World Congress 2018, Copenhagen, Denmark
Jokhio, Sarang., Cho, Yong Bin., Kim, Jin-Tae, (2018). " A Study on Safety and Mobility of Right Turn Treat-ment Methods using Microscopic Simulation", Korean Institute of ITS Conference, Jeju, South Korea