Institute of Surface Chemistry and Catalysis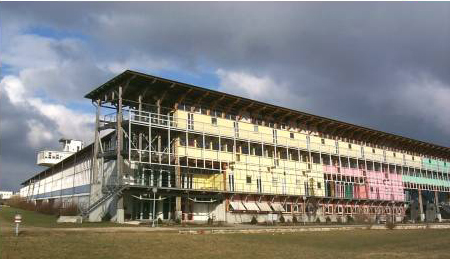 Directions to Inst. of Surface Chemistry and Catalysis, Ulm University
For information, please click

Traveling by Airplane:

The closest international airports are located in Stuttgart and Munich. There is also a regional airport in Augsburg for destinations within Germany.

With the train Deutsche Bahn it is then possible to travel directly to Ulm from any of these three cities.

Traveling with public transportation:

It is possible to travel to Ulm with the train from most major cities in Germany. The University can then be reached from the main train station in Ulm by taking either the tram (number 2) or the bus (number 5), to the Manfred-Börner-Straße tram/bus stop.

Arriving by car:

On A7 from Nuremberg or Wurzburg:
Change motorways from the A7 to the A8 at the Elchingen junction traveling in the direction of Stuttgart.

On A8 from Stuttgart or Munich:
Leave the motorway A8 at the Ulm West exit. Drive on the B10 in the direction of Ulm/Friedrichshafen. Leave the B10 at the Wissenschaftsstadt - Universität exit. See directions below To University West.

On A7 from Kempten oder Memmingen:
Leave the motorway A7 at the Hittistetten exit and go in the direction of Ulm on the B10. Follow the B10 through Ulm and leave the B10 at the Wissenschaftsstadt - Universität exit. See directions below To University West.

To University West:
At the street light (approximately 1 kilometer after leaving the B10) turn left to the University (Albert-Einstein-Allee street). Follow the street until, after an S-curve, a colorful building comes into view on the left side. This is University West. Drive to the last wing of the building - Nr. 47 - and use the parking area P10 (not free of costs). Access to the parking area P11 close to the building is only possible with a special card for member of the university. We are located on the second floor, room number 217.
Like every year, there will be the winter semester graduate course on "Catalysis: Fundamental Aspects and Common Principles" held at Ulm University. Registrations for winter semester 2017/2018 are now being accepted. This year is the course is offered in two sessions, Session I will be held from 06. to 09.11.2017 in Schloss Reisensburg in Günzburg nearby Ulm. The first part of the course will be followed by Session II from 04.02. to 08.02.2017 (planned) in DAV Haus in Obertauern in Austria with a skiing possibility.
Important Informationen regarding Corona-Pandemic
from 15. June: Corona-pandemic level 3
former Director,
now Senior Professor:
Tel: +49 (0)731/50-25450
Fax: +49 (0)731/50-25452
Rm. 47.2.215
temporary Director
(and Deputy Director):
Tel: +49 (0)731/50-25455
Fax: +49 (0)731/50-25452
Rm. 47.2.219
Secretary:
Tel: +49 (0)731/50-25451
Fax: +49 (0)731/50-25452
Rm. 47.2.217
Address:
Ulm University
Institute of Surface Chemistry and Catalysis
Albert-Einstein-Allee 47
D-89069 Ulm