List of posters
According to tradition, the workshop will consist of invited plenary talks and contributed poster presentations.
A list of presented posters is available for Download (PDF).
All posters will be presented during the whole workshop from Monday,
June 8 at 09:00h until Wednesday, June 10 at 12:00h.

The posters should be manned during the respective poster session
to enable direct discussions with the audience.

The size of the poster should be A0 (84 cm wide, 118 cm high).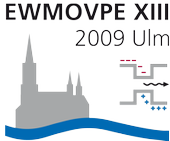 Organization
Institute of Optoelectronics
Contact
Institute of Optoelectronics
Albert-Einstein-Allee 45
89081 Ulm
Tel: +49 (0)731 50 26052
Fax: +49 (0)731 50 26049