Anna Schneider
Anna Schneider studied Psychology with a minor in Criminology from 2007-2014 at the University of Konstanz, Germany and Oregon State University, USA. During that time she completed a nine-month internship with the Psychiatric-Psychological Service at the Office of Law Enforcement in Zurich, Switzerland. She wrote her master thesis about the influence of traumatic life and war experiences on the development of a Posttraumatic Stress Disorder (PTSD) within soldiers in Burundi.
Since June 2014 she is working as a research assistant and PhD student at the department of Clinical & Biological Psychology at Ulm University, mainly focused on genetic and epigenetic influence on the development and treatment of PTSD in survivors of the LRA war in Uganda. As part of her research she went several times to Uganda.


Contact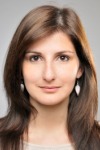 Anna Schneider
doctoral candidate
✉ Anna Schneider
☎ +49-(0)731/50 26595
℻ +49-(0)731/50 26599
Π 47.2.407
Consultation hours
on appointment
Research interests
The role of genetic and epigenetic factors in the development of Posttraumatic Stress Disorder (PTSD)
Genetic and epigenetic influence factors on successful treatment of PTSD with Narrative Exposure Therapy (NET)
Influence of trauma load on the therapy outcome within PTSD patients
Project
Gen-Environment interactions within the ethology, symptomatology and therapy of Posttraumatic Stress Disorder.
Publications
Ramo-Fernandez, L., Schneider, A., Wilker, S., & Kolassa, I-T. (2015). Epigenetic Alterations Associated with War Trauma and Childhood Maltreatment. Behavioral Science and the Law, 33, 701-721, doi: 10.1002/bsl.2200.