M.Sc., MBA. Suchithra Varadarajan
Suchithra Varadarajan is a biopsychologist and an interdisciplinary mental health researcher with dual master's degrees from India and Germany:
M.Sc. Applied Psychology, Bharathiar University (2010);
MBA in Corporate Social Responsibility and Non-government Organization, Bonn-Rhein-Sieg University of Applied sciences (2016).
Since 2019 she is engaged in interdisciplinary research and science communication at institute of Clinical and Biological Psychology, Ulm University.
Suchithra is a specialist in psychological stress- acute, chronic, and traumatic stress.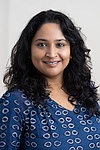 Role of gut microbiota and mitochondria in stress regulation and mental health
Nutrition in the context of stress and mental health
Psychotraumatology (e.g., PTSD, dissociation, appetitive aggression)
Intergenerational transmission of traumatic stress
Stress regulatory and mental health benefits of greenspace exposure in urban population
Innovative therapeutic approaches for stress management (e.g., mindfulness, relaxation and nutrition-based approaches)
Cultural clinical psychology and culturally sensitive therapies
Community mental health- capacity building and cost-effective interventions to mitigate the treatment-gap in underprivileged communities across the globe
Varadarajan, S., Behnke, A., Gumpp, A. M., Mavioglu, R. N., Fissler, P., & Kolassa, I.-T. (2022). An integrative view on the biopsychology of stress and posttraumatic stress disorder. In U. Schnyder & M. Cloitre (Eds.), Evidence Based Treatments for Trauma-Related Psychological Disorders (2nd ed.). Cham, Switzerland: Springer. https://doi.org/10.1007/978-3-030-97802-0_4
Varadarajan, S., Gumpp, A.M., & & Kolassa, I.-T. (2022). Biomolekulare Spuren von traumatischem Stress: Eine intergenerationale Perspektive und innovative therapeutische Ansätze. Brisch, K-H (Ed.). Trauma und Bindung zwischen den Generationen.Stuttgart,Germany: Klett-Cotta.
Herchet, M., Varadarajan, S., Kolassa, I.-T., & Hofmann, M. (2022). How Nature Benefits Mental Health – Empirical Evidence, Prominent Theories, and Future Directions. Zeitschrift für Klinische Psychologie und Psychotherapie. https://doi.org/10.1026/1616-3443/a000674
Karrasch, S., Jung, J.A., Varadarajan, S., Kolassa, I.-T., Bongartz, W. (2022). Modern and traditional trance language: a comparison. American Journal of Clinical Hypnosis, 65(2), 146-159. https://doi.org/10.1080/00029157.2022.2072703
Mischler, C., Hofmann, C., Behnke, A., Mattis, L., Lehnung, L., Varadarajan, S., Rojas, R., & Kolassa, I.-T., &Tumani,V. (2021). Therapists' Experiences with the Effectiveness and Feasibility of Videoconference-Based Eye Movement Desensitization and Reprocessing. Frontiers in Psychology. https://doi.org/10.3389/fpsyg.2021.748712