Matthias Mack studied biochemistry at Ulm University from 2010 to 2013 and Life Science at the University of Konstanz from 2013 to 2016. During his master's thesis Mr. Mack investigated DNA repair mechanisms and its connection to cellular aging. In the following doctoral thesis at the department for molecular toxicology of the University of Konstanz, he developed a screening method for the detection of specific DNA damage. Since May 2020, Mr. Mack works as laboratory manager in the department of Clinical and Biological Psychology at the University of Ulm.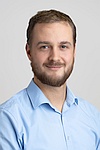 Influence of mitochondrial energy production and oxygen homeostasis on the development of psychiatric disorders
Development and reversibility of disease associated biological parameters during therapy
Mack M., Schweinlin K., Mirsberger N. and Bürkle A., Automated screening for oxidative or methylation-induced DNA damage in human cells. (in Revision)
Veith S., Schink A., Engbrecht M., Mack M., Rank L., Rosatti P., Hakobyan M., Goly D., Hefele T., Frensch M., Fischbach A., Bürkle A. and Mangerich A., PARP1 regulates DNA damage-induced nucleaolar-nucleoplasmic shuttling of WRN and XRCC1 in a toxicant and protein-specific manner. Scientific reports 2019, 9 (1), 10075.
Genome Dynamics RRR Meeting, Zürich, 'A novel screening method for genotoxicity in human cells.' (2019)
20th International Congress on InVitro Toxicology, Berlin, 'Development of a high-throughput screening for oxidative DNA lesions.' (2018)