Address:
Ulm University
Institute of Biochemistry and Molecular Biology
Albert-Einstein-Allee 11
89081 Ulm
Location:
University Campus Eselsberg East
Section ("Festpunkt") M24
Level 3
The secretary's office is in room number 322, the group leader's office in room 323.
Room numbers of the lab members can be found here.
Phone / Fax:
0049 731 50 23290 (Gilbert Weidinger)
0049 731 50 23281 (Secretary's office)
0049 731 50 23277 (Fax)
Phone numbers of other lab members can be found here.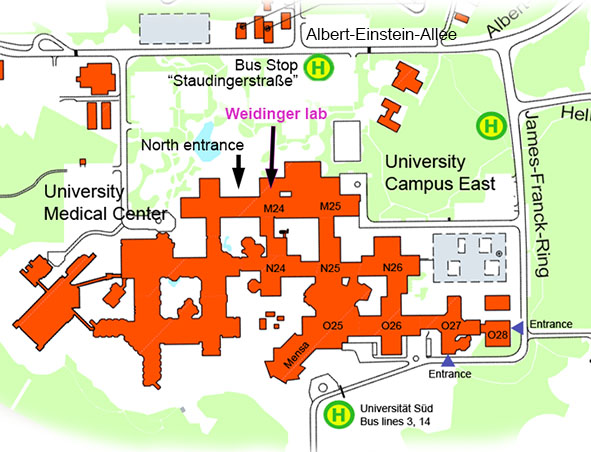 The Campus East of Ulm University is located on the Eselsberg north of Ulm city center.
We are in section M24, level 3, which is only 1 floor above the entrance level.
We are located very close to the North entrance of the University.
By tram:
Take tram line 2 from the city center (e.g. Hauptbahnhof) towards "Science Park II".
Get off at "Kliniken Wissenschaftsstadt".
Walk across the parking lot towards the buildings south of the Albert-Einstein-Allee.
Enter trough the North Entrance.
Take the main stairs just left of the entrance and go one floor up.
Turn right to get to the group leaders and secretary's offices, turn left to get to the labs.
By bike:
Congratulations on riding! You'll have to gain 150 meters elevation from the city center to get to the Eselsberg.
Take the bike path towards "Eselsberg" from the city center.
This will take you across the railroads on the left side of the B10 bridge.
Turn left and follow Mähringer Weg all the way up to the South Entrance of the University.
Go around the buildings on the right side onto James-Franck-Ring and then turn left into Meyerhofstraße, which will take you into the courtyard of M24.
By car:
Exit B10 (the highway crossing Ulm) at exit labelled "Wissenschaftsstadt, Universitätsklinikum" to turn onto Berliner Ring.
Turn left into Albert-Einstein-Allee.
Turn left into James Franck-Ring.
Turn immediately left again into Helmholtzstraße.
Park in the parking garage to your left.
Walk towards M24, see above.