9. 12. 2021
The Collaborative Research Center 1506 "Aging at Interfaces" of Ulm University will be funded! This is a great success for the University, and also for us, since we participate with a project on the Interface of aging and heart regeneration.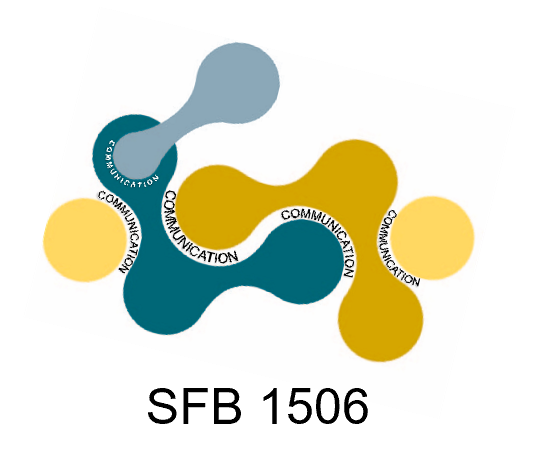 25. 11. 2021
We have published a paper in Developmenal Biology showing that Wnt/beta-catenin signaling is required for zebrafish heart regeneration. It particular, Wnt signaling positively regulates cardiomyocyte dedifferentiation and proliferation. Importantly, using Cre-lox technology we could show that the pathway acts cell-autonomously within cardiomyocytes.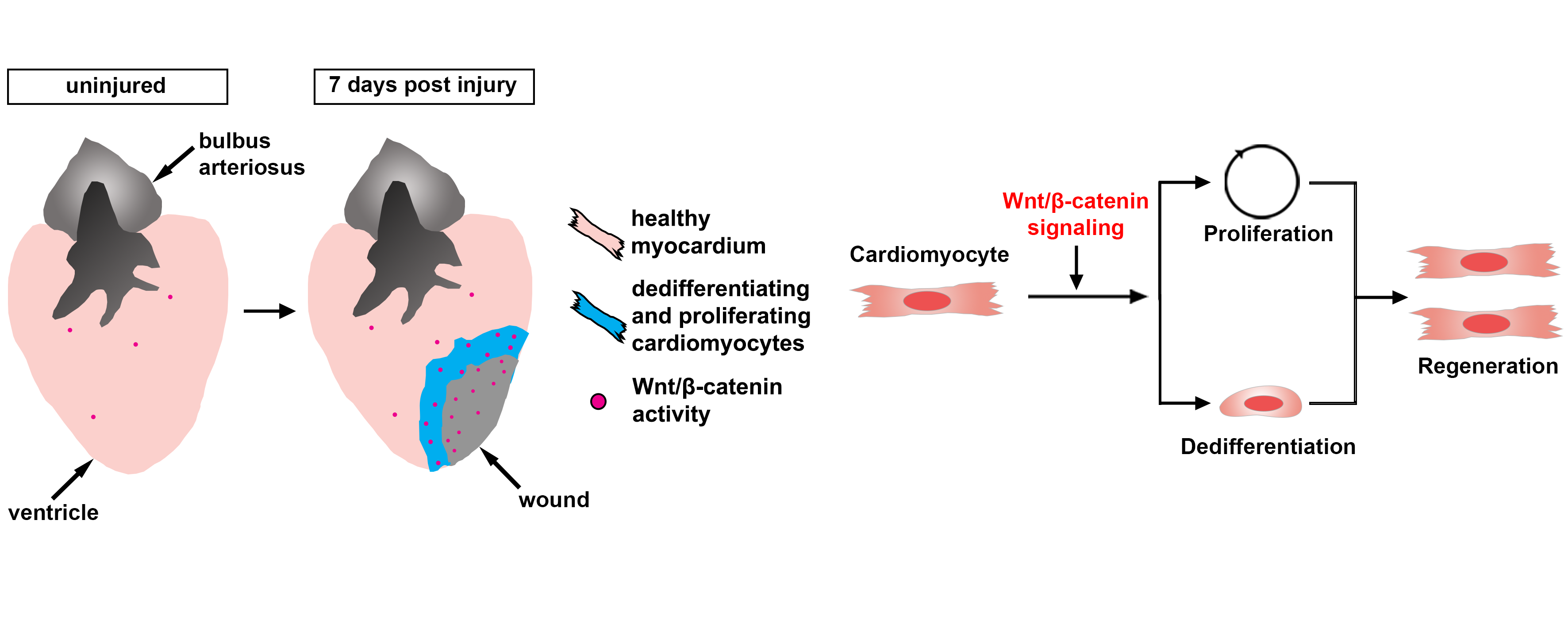 28. 12. 2020
We have published a paper in Developmenal Biology clarifying two important fundamental question in zebrafish heart regeneration research. First, is regeneration "complete"? And second, can cardiomyocytes form other cell types during regeneration? See here for the answers.
15. 6. 2020
Gilbert was invited to participate in a webinar on zebrafish heart regeneration, hosted by Didier Stainier, together with wolrd-leaders in the field Ken Poss, Nadia Mercader, Kazu Kikuchi, Jeroen Bakkers and Caroline Burns.
27. 1. 2020
We are very happy that our work on the role of Nf-kappaB signaling in osteoblast dedifferentiation during zebrafish fin regeneration has been published in Developmental Cell.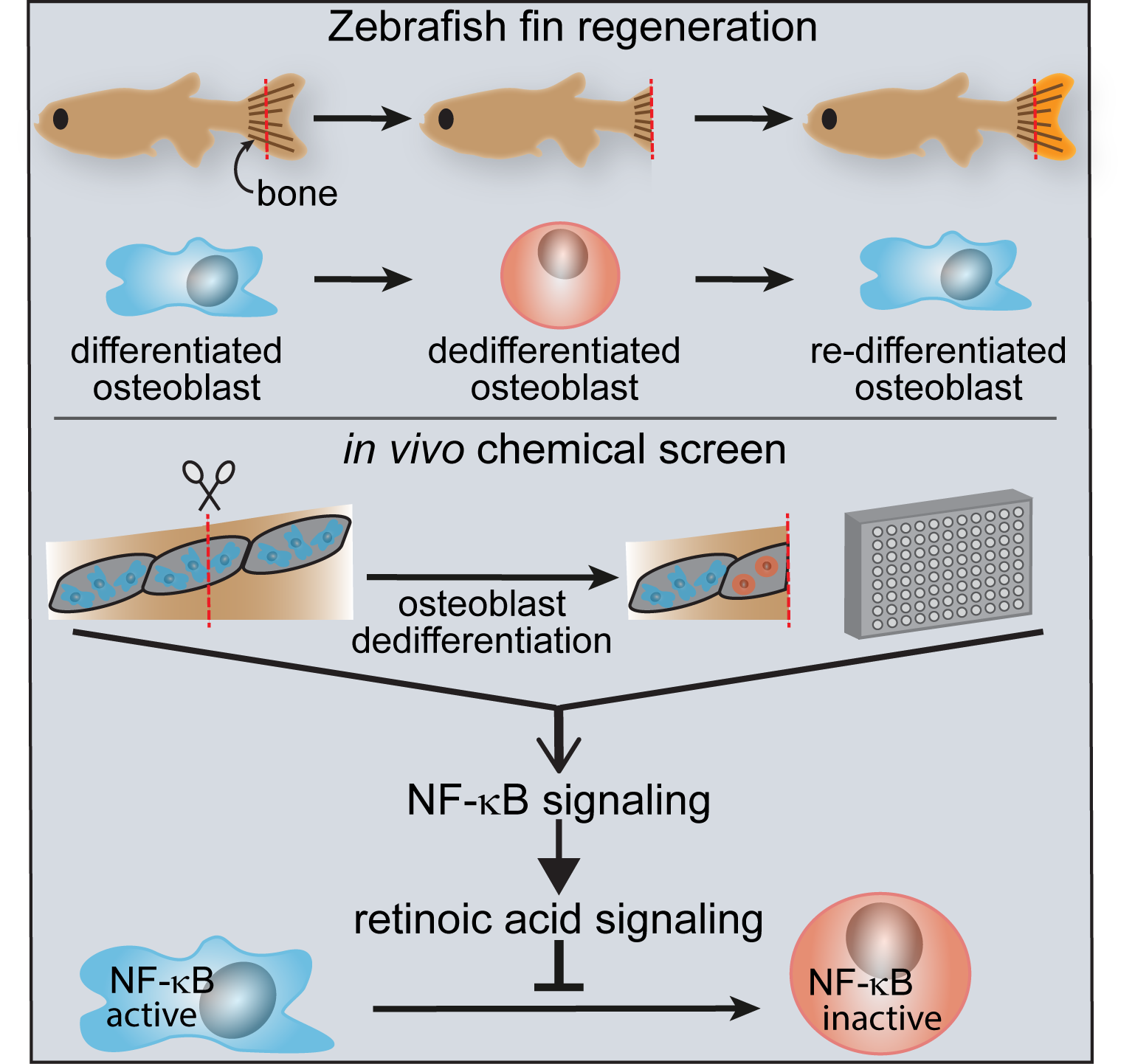 3. 12. 2018
The Collaborative Research Center (CRC) 1149 "Danger Response, Disturbance Factors and Regenerative Potential after Acute Trauma", in which the Weidinger lab participates with a project on fin regeneration, has been funded for a second 4-year period!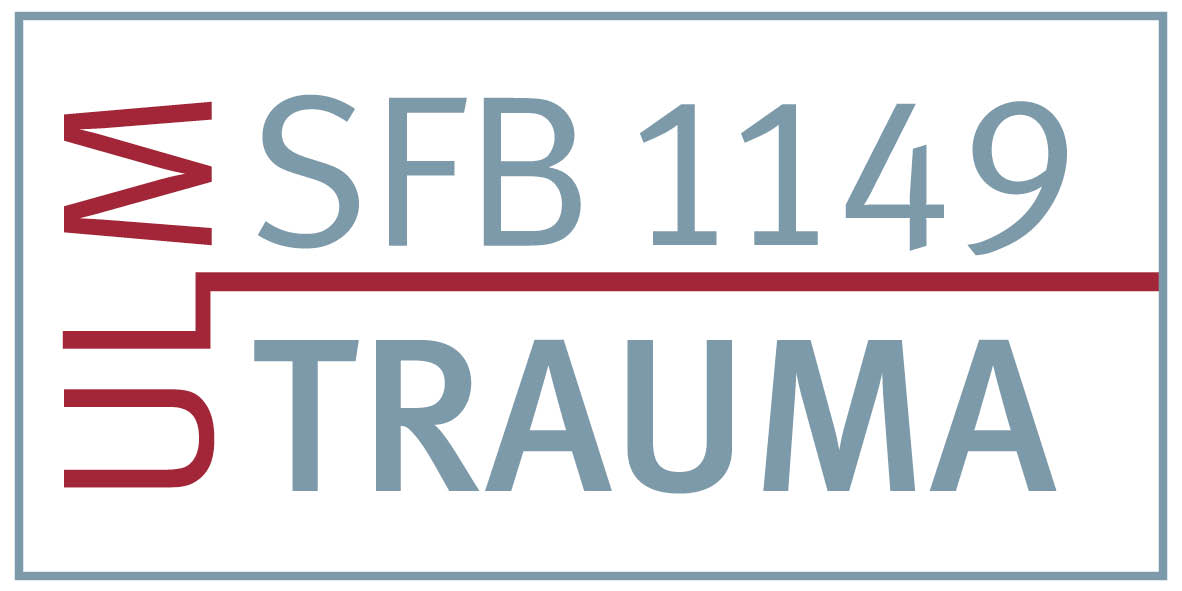 9. 2. 2016
The Südwestpresse newspaper has published an article about Chung's paper on BMP signaling in heart regeneration.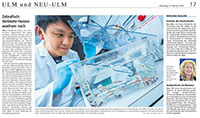 4. 8. 2014
Daniel's paper on Wnt as organizer of fin regeneration has been recommended by the Faculty of 1000.
10. 6. 2014:
The local newspaper - the "Südwestpresse" has published an article about Daniel's paper.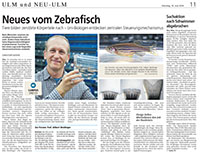 20.5.2014
We have published a paper where we surprisingly find that adult fish repair bone fractures quite differently than mammals; they do not use (only) stem cells, but mature osteoblasts, which dedifferentiate in respone to fractures.
Geurtzen et al., Development 2014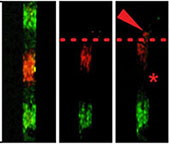 15.4.2014
Chung's abstract was selected for an oral presentation at the prestigious Weinstein Cardiovascular Conference in Madrid in May 2014. That's quite a success and might indicate that he does work on something interesting after all ;-)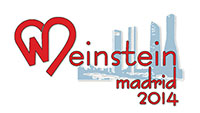 13.2.2014
Daniel's paper on the role of Wnt signaling in orchestration of fin regeneration was published in Cell Reports. And it's featured on the cover!
Wehner et al., Cell Reports 2014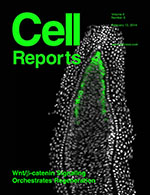 11.2.2014
Daniel has graduated with summa cum laude! Congratulations!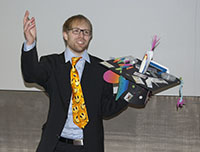 27.8.2013
We have published a paper in Developmental Cell describing a new role for Lypd6, a GPI-anchored membrane protein, in the regulation of Wnt/beta-catenin signaling. The paper is being featured by the journal as an "issue highlight".