RoboSail: Long-term Routing for Autonomous Robot Sailboats with Constraint Handling Rules
With Roland Stelzer, INNOC, Vienna, Austria and Jon Sneyers, K.U.Leuven, Belgium, 2009-2013.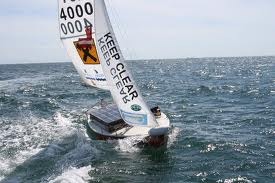 Events like the devastating tsunamis in Asia, the Deep-water Horizon oil spill in Gulf of Mexico, accidents involving refugee boats in the Mediterranean Sea and pirate activities in the Gulf of Aden have impressively emphasized the importance of a fully integrated ocean observation system. Robotic sailing boats offer the possibility of sampling an area of interest with high temporal and spatial resolution at low cost. The ASV Roboat from INNOC Vienna won several international competitions in robotic sailing in recent years. It has also completed a several-day oceanographic research mission in the Baltic Sea. Robotic sailing boats execute complex sailing processes completely autonomously and without human interaction. Starting with finding a route based on weather data, to the autonomous execution of manoeuvres, robotic boats are able to reach any desired destination. We developed a rule-based algorithm for long-term routing of robotic sailboats. It computes optimal routes based on wind conditions, ocean currents, and shorelines, while taking the boats individual characteristics into account.
Links
Robotic sailing world record attempt:
Cooperation partner INNOC