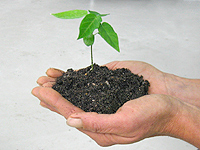 Is self-employment a career alternative for you?
Through the Founders Association of Ulm, the University of Ulm offers support to its students, employess and alumni.
Information
Professional planning is of utmost importance for your business start-up.

We offer you:
Support with your preparations for founding a company

Assistance in creating a business plan

Information and advising on financing and financial assistance


Orientation
You would like to find out if self-employment is a career alternative for you? We can help you get your bearings.
You have the opportunity to contact us during each and every phase of your business start-up. It doesn't matter whether you just have an idea or are already working on a business plan. We will support you in your further development!
Take advantage of the opportunity to have an orientation meeting! We will give you some feedback on your plans

.

Correctly assess your competence as a future business owner

.

Gain initial insight into the process of founding a company – take advantage of our seminars

.

Attend presentations by experienced business owners and people who have just recently founded a company, and get to know these people

.


Qualification
Check your competence profile for starting a business!
In addition to professional qualifications, it should show business knowledge as well as personal and social skills.
We will support you in getting your qualifications.


Competition and financial assistance
There are various programmes that provide financial assistance for starting a new company. You have the opportunity to make use of federal and state financial assistance programmes and participate in competitions for founders of new businesses.