Yusuf studierte an der Universität Ulm Medieninformatik und schloss seinen Master im Jahr 2021 erfolgreich ab. In seiner Masterarbeit beschäftigte er sich mit der Konzeption und Implementierung eines anwendungsspezifischen Kommunikationstools basierend auf TCP/IP. Nach seinem Abschluss wurde Yusuf als Doktorand im DBIS angestellt. In seiner Freizeit treibt er gerne Sport, hört Musik und trifft sich mit Freunden.
Internet of Things (IoT)
Business Process Management
|
2021
|
2021
Gallik, Florian and Zimoch, Michael and Kirikkayis, Yusuf and Pryss, Rüdiger and Reichert, Manfred

(2021) DyVProMo - A Lightweight Web-Based Tool for the Dynamic Visualization of Additional Information in Business Process Models. In: 25th International Enterprise Distributed Object Computing Workshop, EDOC Workshop 2021, Gold Coast, Australia, October 25-29, 2021, IEEE, pp. 345-348.
Betreute Abschlussarbeiten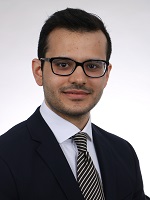 Yusuf Kirikkayis
Wissenschaftlicher Mitarbeiter
Büro: Gebäude O27 - Raum 544
Sprechzeiten nach Vereinbarung.
yusuf.kirikkayis(at)uni-ulm.de
| | |
| --- | --- |
| Telefon: | +49 731 50 24 194 |
| Fax: | +49 731 50 24 134 |