Kevin Andrews attended Ulm University, where he obtained his master's degree in computer science and a minor in economics. Since his graduation in 2014 he has been working with the Persis GmbH on the PHILharmonic Flows project, which he plans to contribute to as part of his Ph.D. thesis. His main research interests are process management and the implementation challenges related to the general architecture of BPMSs, in particular the handling of dataflow and introduction of object-oriented aspects into next-generation BPMS.
In his free time he does fair amounts of programming to gain experience with the newest technologies and concepts that crop up in the ever evolving world of IT. Additionally, he is a passionate photographer and diver, two hobbies that can be combined well.
Supervised Master & Bachelor Theses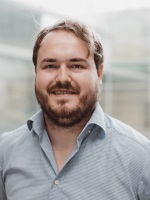 Kevin Andrews
Research assistant
Office: Building O27 - Room 552
Consultation hours: Monday/Wednesday/Thursday.
| | |
| --- | --- |
| Phone: | +49 731 50 24 133 |
| Fax: | +49 731 50 24 134 |