How to Find Us on Campus
The Institute of Distributed Systems is located in building O27 on the third floor (meeting room is O27/341). Depending on where you arrive and which entrance you take, it is more or less complicated to find us.
If you arrive by bus, the best option is to exit at "Universität Süd." The bus stop is marked on the campus map. Then, head toward the entrances of building O27 (marked on the map). When you enter, you will find yourself on the 1st or 2nd floor. Go straight into the building, since stairs and elevators are at the center of the building. Go up to the 3rd floor and follow the signs to "Verteilte Systeme."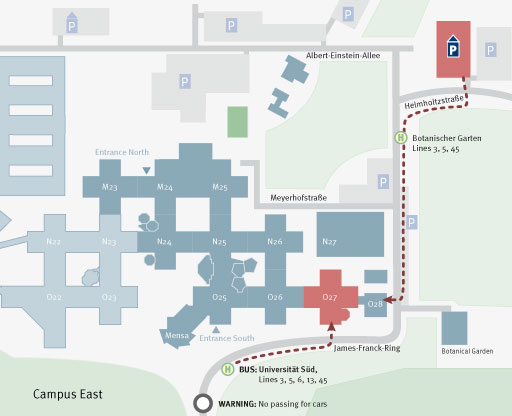 Staying overnight
Convenient bus connections are available from almost all hotels in the city center to the university.
In parcitular, both the ibis hotel (prices from 65€/night), as well as the ibis budget (ETAP) hotel (prices from 50€/night) are located close to the bus stop "Theater". From there, bus lines 3 and 45 take you to the university in approximately 10 minutes. Likewise, you can reach the university within 12 minutes from the Intercity Hotel, which is located at Ulm central station. Take bus lines 3 or 45 to the university. If you choose ibis or Intercity, ask for special rates for guests of the university. Depending on how timely you book, these may or may not be better then the best available regular rate.
If you would like to stay at a 4-star hotel, you can book a room in Maritim Ulm. From here, public transport to the university takes a bit longer. In front of the hotel, on the opposite side of the street, there is a bus stop, from which bus line 6 takes you to the university. However, you need to pay attention to the final destination of the buses. Some buses (those stating "Universität Süd") take you to the university directly. If your bus service states "Eselsberg/Hasenkopf" as final destination, you need to change at stop "Theater" to a bus line 3.
If you are staying at a different hotel, use the local public transport map, the public transport city map or the Deutsche Bahn widget on the right to find suitable bus connections to the university.
Arrival by car
Highway A8; exit Ulm/West
B10 to Ulm; exit Ausfahrt Universität
Berliner Ring
Albert-Einstein-Allee
James-Franck-Ring
Parking lot: Helmholtzstraße (see map)
Arrival by train
Take the train to Ulm central station
Continue with bus line 3
Towards Wissenschaftsstadt
Exit at Universität Süd
Arrival by plane
Stuttgart (STR):
Tram (S2,S3) to Stuttgart main station
Deutsche Bahn to Ulm main station
Munich (MUC):
Tram (S1,S8) to Munich main station
Deutsche Bahn to Ulm main station
Frankfurt (FRA):
Deutsche Bahn to Ulm main station