Constraints at the Institute of Distributed Systems due to SARS-CoV-2
Contact

All members of the institute are currently not available on phone. Please contact them by e-mail. In case, you can negotiate other electronic media via e-mail, e.g. audio and video calls. Our secretaries are reach best by this central e-mail address.

Courses in Summer Semester 2020

Due to the current situation, the institute is working on suitable solutions for our courses in the Summer Semester 2020. This is done in consultation with the Academic Affairs Committee for Computer Science. Further information will be posted in time on our web pages.

Written Exams, Oral Exams, Post-examination Reviews

According to the directive of the pandemic staff of Ulm University and the state of Baden-Württemberg, teaching is currently suspended. This also applies to any written and oral exams at our institute. Also affected are open post-examination reviews. As soon as a change in the situation becomes apparent, we will promptly work out solutions.

Theses and Projects

We continue to offer final theses and individual projects. This includes in particular remote student support. As usual, our institute members can be reached by e-mail.
Institute of Distributed Systems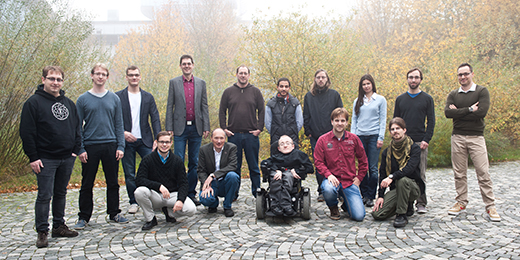 The Institute of Distributed Systems is actively researching scalability, reliability, security and privacy, self-organization, and complexity management issues in distributed systems. We apply our research to a wide range of practical use cases, including cloud computing and vehicular communication networks.
Moreover, we offer lectures and projects related to our research, including computer networks, distributed systems, and security and privacy.
Our Most Recent Publications
2020
367.
B. Erb, "Distributed Computing on Event-Sourced Graphs", Dissertation, Universität Ulm, 02 2020.
---
366.
T. Lukaseder, M. Halter and F. Kargl, "Context-based Access Control and Trust Scores in Zero Trust Campus Networks", GI Sicherheit, Göttingen, 2020.
---
365.
M. Mehdi, C. Riha, P. Neff, A. Dode, R. Pryss, W. Schlee, M. Reichert and F. J. Hauck, "Smartphone apps in the context of tinnitus: systematic review" ,
Sensors
, vol. 20, no. 6, 2020.
---
2019
364.
J. Domaschka, C. Berger, H. P. Reiser, P. Eichhammer, F. Griesinger, J. Pietron, M. Tichy, F. J. Hauck and G. Habiger, "SORRIR: a resilient self-organizing middleware for IoT applications" in Proc. of 6th Int. Worksh. on Middlew. and App. for the Internet of Things (M4IoT), Davis, CA, Dec.2019. pp. 13-16.
363.
E. Bendig, B. Erb, L. Schulze-Thuesing and H. Baumeister, "Next Generation: Chatbots in Clinical Psychology and Psychotherapy to Foster Mental Health – A Scoping Review" ,
Verhaltenstherapie
, Aug. 2019.
---
Click here for an overview of all our publications.