Young Researchers' Science Day
The 2022 edition of ProTrainU's Young Researchers' Science Day will take off on 26 October 2022 and provide funding for innovative research projects.

"High-risk, high-gain": On Young Researchers' Science Day we will give young researchers from all faculties the opportunity to present themselves and their own project ideas to the university public.

How to seize the opportunity?

First, submit your idea. A selected group of researchers will then gain access to a professional pitch training and present their projects to the university public on Science Day itself.

Finally, based on the documents submitted as well as the presentations, the best two applications will be awarded by a jury and receive the following funding amounts:
1st place: 50.000 €
2nd place: 30.000 €
The funding can be spent on materials and equipment, assistant staff and/or test person remuneration.
The next Science Day will take place on 26 October 2022.
Time table:
| | |
| --- | --- |
| 12 July 2022 | Next call for proposals |
| 04 September 2022 | Application deadline |
| 10 October 2022 | Selection of the applicants who will be allowed to pitch at the Science Day |
| 18 October 20222 | Offer Pitch Training (2:30 - 5:30pm, voluntary) |
| 26 October 2022 | Presentation of the pitches on Young Researchers' Science Day |
| 01 January 2023 | Start of funding |
This table is meant to serve as a rough orientation to help you with your personal long-term schedule. Please allow for minor changes at short notice.
The 1st Young Researchers' Science Day was a great success!
Successful premiere of the 1st Young Reasearchers Science Day at Ulm University! The innovative pitch format was very well received by all the people involved and also by the audience, which is why the 2nd Young Researchers' Science Day is also planned for 2022.
You can access the press report here.
The video below shows the lecture by Dr. Patrick Honecker on the topic of "Wissenschaft und Kommunikation". (Please note: Due to technical problems during the lecture, the video was edited.)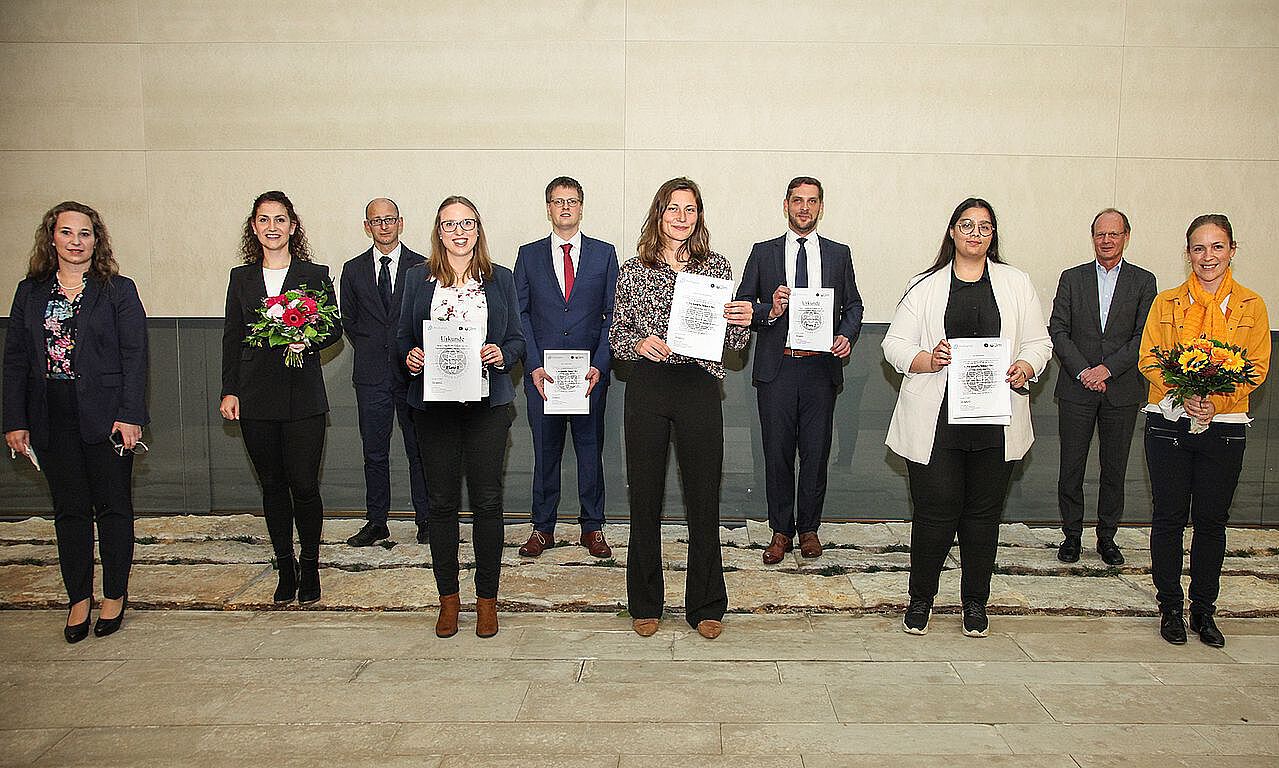 f.l.t.r.
Pia Beyer-Wunsch, Clarissa Gobiet, Prof. Dieter Rautenbach,
Dr. Silke Werle, Dr. Michael Melzer, Dr. Flora Scheffenbichler,
Dr. Jens Friedland, Rida Rehman, Prof. Michael Weber,
Dr. Cornelia Estner
(photo: Carola Gietzen Fotodesign / Uni Ulm)