Young Researchers' Science Day
The 2022 edition of ProTrainU's Young Researchers' Science Day will take off on 26 October 2022 and provide funding for innovative research projects.

"High-risk, high-gain": On Young Researchers' Science Day we will give young researchers from all faculties the opportunity to present themselves and their own project ideas to the university public.

How to seize the opportunity?

First, submit your idea. A selected group of researchers will then gain access to a professional pitch training and present their projects to the university public on Science Day itself.

Finally, based on the documents submitted as well as the presentations, the best two applications will be awarded by a jury and receive the following funding amounts:
1st place: EUR 50,000
2nd place: EUR 30,000
The funding can be spent on materials and equipment, assistant staff and/or test person remuneration.
The next Science Day will take place on 26 October 2022.
2nd YOUNG RESEARCHERS' SCIENCE DAY
Uni Ulm awards high prize money at the 2nd Science Day
At the 2nd Science Day at the Ulm University for young scientists, EUR 80,000 in prize money was again awarded.
EUR 50,000 for first place in the pitch competition went to social psychologist and psychotherapist Dr. Michael Barthelmäs. Second place and EUR 30,000 went to the biochemist Dr. Matthias Mack. A mobility voucher of EUR 1,500 was awarded to each of the other four candidates.
The Young Researchers' Science Day has already become very well established.
Click here for the press report.
The following video shows the lecture by Dr. Eleni Vomhof on the topic of "Anwendungsfelder der Wissenschaftskommunikation in der Wirtschaft". As a graduate in biophysics from the Ulm University and Technical Marketing Specialist at the company WITec in Ulm, she explains in her lecture the important role science communication plays in her everyday work.
f.l.t.r.
Clarissa Gobiet, Dr. Cornelia Estner, Dr. Matthias Mack,
Dr. Subrata Mandal, Dr. Michael Barthelmäs, Dr. Eileen Bendig,
Dr. Michael Schön, Pia Beyer-Wunsch, Dr. Brecht Donvil,
Prof. Dieter Rautenbach
(photo: Elvira Eberhardt / Uni Ulm)
The 1st Young Researchers' Science Day was a great success!
Successful premiere of the 1st Young Reasearchers Science Day at Ulm University! The innovative pitch format was very well received by all the people involved and also by the audience, which is why the 2nd Young Researchers' Science Day is also planned for 2022.
You can access the press report here.
The video below shows the lecture by Dr. Patrick Honecker on the topic of "Wissenschaft und Kommunikation". (Please note: Due to technical problems during the lecture, the video was edited.)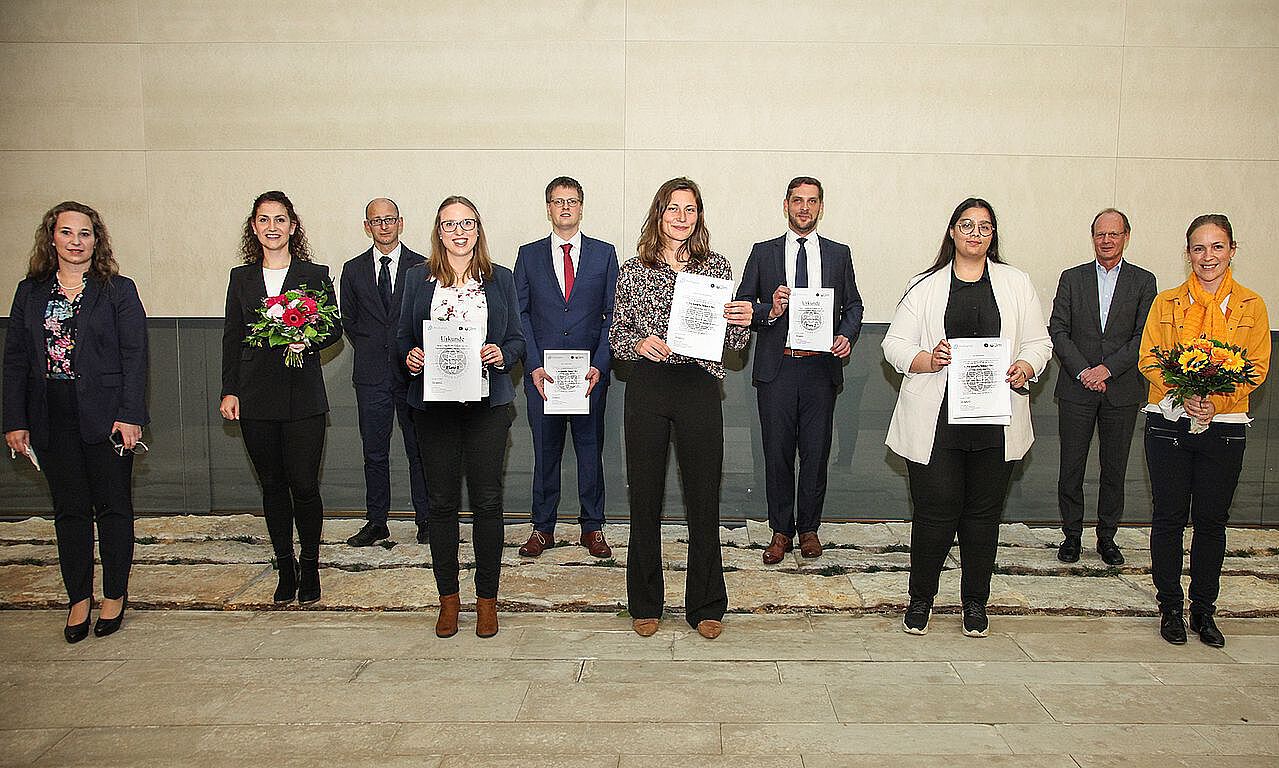 f.l.t.r.
Pia Beyer-Wunsch, Clarissa Gobiet, Prof. Dieter Rautenbach,
Dr. Silke Werle, Dr. Michael Melzer, Dr. Flora Scheffenbichler,
Dr. Jens Friedland, Rida Rehman, Prof. Michael Weber,
Dr. Cornelia Estner
(photo: Carola Gietzen Fotodesign / Uni Ulm)