Large and small mammal biodiversity
Influences of forest structure and management on mammalian community assemblages
Camera trapping

Local manager of the Schwäbische Alb Biodiversity Exploratory.
I am currently monitoring large mammal species on 25 forest experimental plots in the Swabian Alb Biosphere Reserve, covering the entire gradient of land use intensity and management. Since small mammals are to be recorded in addition to large mammal species, I am currently developing and testing an innovative camera trap specifically designed for accurate identification of small mammal species.
My long-term goal is to comprehensively identify forest structure and management factors that influence the entire terrestrial mammal community throughout the year.

Sultana M, Mueller M, Meyer M, & Storch I (2022). Neighboring Green Network and Landscape Metrics Explain Biodiversity within Small Urban Green Areas-A Case Study on Birds. Sustainability 14(11): 6394. https://doi.org/10.3390/su14116394
Mueller M & Egger V (2020). Dendritic integration in olfactory bulb granule cells upon simultaneous multispine activation: Low thresholds for nonlocal spiking activity. PLoS biology 18: e3000873. https://doi.org/10.1371/journal.pbio.3000873
Lage-Rupprecht V, Zhou L, Bianchini G, Aghvami SS, Mueller M, Rozsa B, Sassoe-Pognetto M & Egger V (2020). Presynaptic NMDARs cooperate with local spikes toward GABA release from the reciprocal olfactory bulb granule cell spine. Elife 9. https://doi.org/10.7554/eLife.63737
Mueller M, Go M A, Castañares M L, Egger V & Daria V R (2019). A compact holographic projector module for high-resolution 3D multi-site two-photon photostimulation. Plos one 14: e0210564. https://doi.org/10.1371/journal.pone.0210564
Aghvami S S, Mueller M, Araabi B N & Egger V (2019). Coincidence Detection within the Excitable Rat Olfactory Bulb Granule Cell Spines. J Neurosci 39: 584-595. https://doi.org/10.1523/JNEUROSCI.1798-18.2018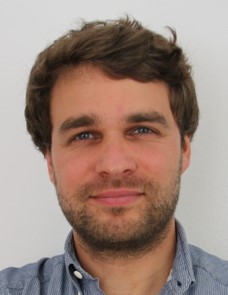 Dr. Max Müller
Institute of

Evolutionary Ecology and Conservation Genomics

Ulm University
Albert-Einstein-Allee 11
D-89081 Ulm, Germany
Tel. +49 (0)731 50 22668
Mobile: +49 (0)152 22543191
Office: M25 4114