Lassa virus
Mastomys rodents
Disease ecology
Immune genetics (MHC)
Host disease resistance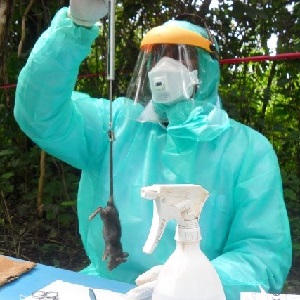 Dr. Ayodeji Olayemi is a Senior Research Fellow at the Natural History Museum, Obafemi Awolowo University, Nigeria. His investigations centre around zoonotic disease ecology; particularly concerning how rodent reservoirs maintain and transmit the Lassa virus, which kills thousands of people every year in Nigeria and other parts of West Africa.
Supported by a Georg-Forster Alexander von Humboldt fellowship, Dr Olayemi's research at the Institute of Evolutionary Ecology and Conservation Genomics/Ulm University focuses on the immunogenetics of Mastomys rodents; specifically, the Major Histocompatibility Complex (MHC). The project explores the association between Lassa virus infection and rodent MHC genotype, helping to assess the potential for this deadly zoonotic virus to emerge in populations of Mastomys; and, ultimately, in humans.
Dr. Ayodeji Olayemi
Institute of Evolutionary Ecology
and Conservation Genomics
University of Ulm
Albert-Einstein-Allee 11
89081 Ulm
Germany
Tel: /
Email: /