Amphibian microbiome
Evolutionary ecology and genetics of introduced species
Wildlife and zoonotic diseases
Conservation biology
Biostatistics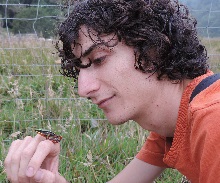 In Costa Rica (CR) many, mainly highland endemic amphibians declined and are threatened to extinction, and this has been associated to an emerging disease caused by the skin-fungal pathogen Batrachochytrium dendrobatidis (Bd). However, some species from CR seem either to be immune or recovered after a significant decline associated to Bd, and skin bacteria from some of these species has been reported to inhibit Bd-growth. This demonstrates the functional importance of specific skin bacterial communities in Bd-resistance. However, we have no knowledge about amphibian skin microbiome ecology, and dynamics during Bd-infections, which could help to understand the factors that allow the survival of some amphibians, and elaborate conservation strategies with Bd-resistant bacteria to mitigate the disease. My Ph.D. project is designed to fill this gap of knowledge by addressing relevant 'hot' scientific questions on animal-microbiome symbiotic interactions, host-pathogen interactions and co-evolutionary processes using two amphibian species with different Bd-infection history (Lithobates vibicarius, Isthmohyla pseudopuma) at high elevations in CR.
After finishing my PhD in January 2020 at the University of Ulm I accepted a postdoc offer from Smithsonian/Washington to continue my research on the functional importance of the skin microbiome in amphibian health.
Jiménez RR, Alvarado G, Estrella J, Sommer S (2019) Moving beyond the host: unravelling the skin microbiome of endangered Costa Rican amphibians. Frontiers in Microbiology (accepted 27.07.2019).
Jiménez RR, Barquero-Calvo E, Abarca JG, Porras LP (2015) Salmonella isolates in the introduced Asian house gecko (Hemidactylus frenatus) with emphasis on Salmonella Weltevreden, in houses of two regions in Costa Rica. Vector-Borne and Zoonotic Diseases 15(9): 550-555.

Jiménez RR, Rodríguez-Rodríguez JA (2015) The relationship between perch type and aggressive behavior in the lizard Norops polylepis (Polychrotidae). Phyllomedusa 14: 43–51. -- Cover Article --

Jiménez RR, Abarca JG (2015) Records of the Mourning Gecko (Lepidodactylus lugubris) and distribution in Costa Rica. Mesoamerican Herpetology 2: 214-217

Jiménez RR, Abarca JG (2014) Range extension of the Mourning Gecko (Lepidodactylus lugubris) in the Caribbean versant of Costa Rica. Herpetotropicos 10: 31-32

Whitfield SM, Geerdes E, Chacon I, Ballestero Rodriguez E, Jiménez RR, Donnelly MA, Kerby JL (2013) Infection and co-infection by the amphibian chytrid fungus and ranavirus in wild Costa Rican frogs. Diseases of Aquatic Organisms. 104: 173–178.

Touchon JC, Jiménez RR, Abinette SH, Vonesh JR, Warkentin KM (2013) Behavioral plasticity mitigates risk across environments and predators during anuran metamorphosis. Oecologia 173: 801-811. -- Cover Article --

Jiménez RR, Bolaños F (2012) Use of food and spatial resources by two frogs of the genus Dendropsophus (Hylidae), from La Selva, Costa Rica. Phyllomedusa 11(1): 51-62

Jiménez RR, Abinette SH, Touchon JC, Vonesh JR, Warkentin KM (2012). Ontogeny of risk across the aquatic-terrestrial interface: how changing behavior and morphology affect predation through anuran metamorphosis. Society for Integrative and Comparative Biology Meetings, Charleston, South Carolina, USA.


Dr. Randall Jiménez
Email: randall87()gmail.com