The Dantec Dynamics Validation Tool
This is an Extension for the Finite Element Software Ansys which was developed by UZWR for and together with the Company Dantec Dynamics in Ulm. Dantec Dynamics produces and sells high sophisticated measurement equipment e.g. for strain and vibration experiments. This Ansys Customization Extension helps the Users of Dantec Dynamics Systems to easily import their measured 3D displacement data (hdf5 format) into the widely-used simulation package Ansys Workbench.
Learn more from your experiments
The measured data after imported into Ansys can be mapped and displayed on the clean CAD geometries of the objects. This offers the subsequent evaluation of the data in terms of stress and strain components.
Easy validation of your FE simulations
In addition the measured data can be directly compared to simulated finite element results produced from a corresponding Finite Element Model which can be set up easily in the same Ansys Workbench project. The difference between measured and calculated displacement data can be displayed and evaluated locally on the CAD surfaces.
Contents
The extension comes as an installation executable beside an introductory slide show and a short movie. The extension ones installed will add the new pull down menu "Dantec Dynamics" to your Workbench GUI containing all necessary tools. A step-by-step user's guide will be added to the official Ansys Help File System (Ansys Workbench Help/Custom Users Help/Dantec Dynamics Validation Tool).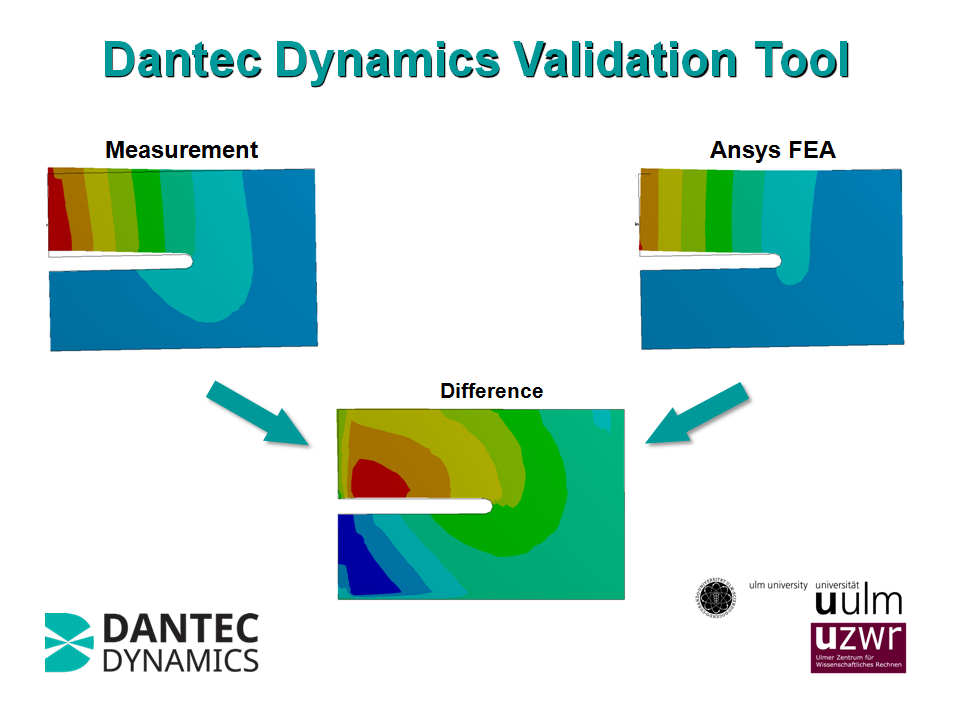 (works with ANSYS 15.0 / 16.0 / 16.1 / 16.2 / 17.0 / 17.1 / 17.2 / 18.0 / 18.1 / 18.2 / 19.0 / 19.1)
Version 1.3.2:
The plugin now shows a preview of the numbers which are extracted from a .hdf5 file and later saved in a .txt file during the process
Version 1.3.1:
Fixed a bug in the installer which caused a faulty behavior of the plugin