Renommierter Nachwuchspreis der Anatomischen Gesellschaft für Ulmer Wissenschaftler
Die Anatomische Gesellschaft hat auf ihrem 111. Jahrestreffen in Göttingen (2016) Dr. Christoph Wiegreffe (rechts im Bild), wissenschaftlicher Mitarbeiter des Instituts für Molekulare und Zelluläre Anatomie (Direktor: Professor Dr. Stefan Britsch), für seine wissenschaftliche Publikation "Bcl11a (Ctip1) Controls Migration of Cortical Projection Neurons through Regulation of Sema3c", die im vergangenen Jahr im Fachjournal Neuron erschienen ist, mit dem renommierten Nachwuchspreis ausgezeichnet.
Alljährlich prämiert die Anatomsiche Gesellschaft hervorragende wissenschaftliche Arbeiten auf dem Gebiet der Anatomie mit diesem Preis. In seiner ausgezeichneten wissenschaftlichen Arbeit konnte Herr Dr. Wiegreffe erstmals im knock-out-Mausmodell wichtige Funktionen des Zinkfingertranskriptionsfaktors Bcl11a während der Entwicklung des Neokortex nachweisen.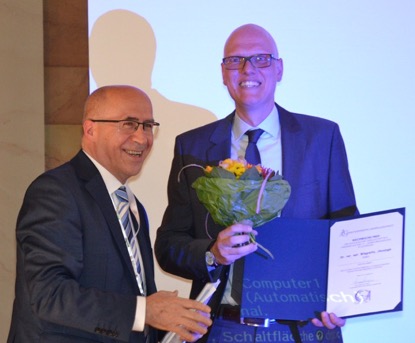 links: amtierender Präsident der Anatomischen Gesellschaft (Prof. Dr. med. Süleyman Ergün, Institut für Anatomie und Zellbiologie, Universität Würzburg); rechts: Träger des Nachwuchspreis 2016 (Dr. rer. nat. Christoph Wiegreffe, Institut für Molekulare und Zelluläre Anatomie, Universität Ulm)