This are pages of a past event!

5th Egyptian-German Workshop on
Resorbable Bone Implants
RBI
Ulm University, Villa Eberhardt
July 28 - 29, 2017
Together with researchers and experts from Egypt and Germany we will have lectures and discussions about the mathematical modeling and simulation, the design and development of resorbable materials and their clinical application as bone implants.
This workshop is the third one taking place at Ulm University and belongs to a program granted by BMBF/DAAD to Prof. Gerd Baumann (German University of Cairo, GUC) and Dr. Ulrich Simon (Ulm University).
RBI Workshop Program 2017
Friday, July 28


11:15
Dr. Ulrich Simon, UU
Welcome Address
11:45
Prof. Dr. Gerd Baumann, GUC
Bone Remodeling Simulation Using the Sinc Function Approach - Further Developments
12:30
Lunch Buffet
13:30
Prof. Dr. Nahed El-Mahallawy, GUC
Properties and Corrosion Behaviour of some Mg Alloys
14:15
Dr. Maha Youssef, GUC
Kinetics of Corrosion - Calculations of Corrosion Rate

Coauthor: Prof. Dr. Gerd Baumann

15:00
Prof. Dr. Hans-Georg Breitinger, GUC
Biochemical Properties of Resorbable Implant Materials - New Results
15:45
Coffee Break
16:00
MSc Lucas Engelhardt, UU
Inverse Dynamics Models to Estimate Loads in Musculoskeletal Systems
Coauthors: Tito Bassani, Fabio Galbusera, Dominik Vogelaar, Ulrich Simon
16:45
Discussion 1
- Research Questions and Aims of a Future Research Program
17:30
Approx. End
19:00
Dinner at traditional swabian restaurant "Drei Kannen"
- In good weather: outside in the "Biergarten"
- Location: www.dreikannen.de

Saturday, July 29


10:00
Prof. Dr. Hartmut Seliger, UU
Antibacterial Polymers and Coatings
10:45
Coffee Break
11:00
Dr. Maha Youssef, GUC
Numerical Solution of Corrosion Crack Problems using Poly-Sinc Methods

Coauthor: Prof. Dr. Gerd Baumann

11:45
Dr. Anke Klingner, GUC
Coating of Mg/Mg alloys with biodegredeable polymers
12:30
Lunch Buffet
13:30
MSc Martin Pietsch, UU
Simulation of Tissue Formation and Implant Resorption Using an Interface Tracking Approach
Coauthors: Ali Mirhajimoghanjoughi, Frank Niemeyer, Ulrich Simon
14:15
Discussion 2
- Members and Working Steps of a Future Research Consortium
- Next Steps and Directions
15:30
Approx. End
The Workshop on Resorbable Bone Implants will be held at Villa Eberhardt in Ulm, Germany. This is the same location that we had the last times.
Follow the link to find more photos, maps, and some contact and traveling information: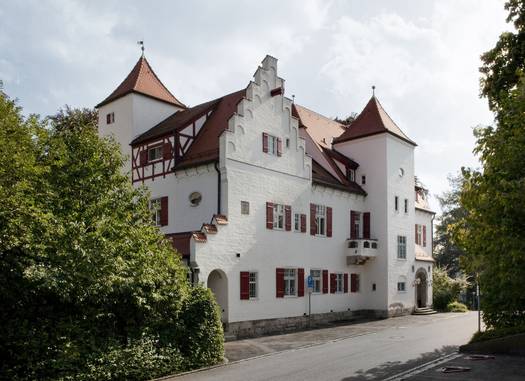 Arrival by Train
Stuttgart and Munich central railway stations as well as Friedrichshafen Airport are directly connected to Ulm central station.
From Ulm central station please take local public transport service (SWU) to conference location.
Route Map for local public transport
Travel by Car
From motorway A8 (E52) in the direction of Ulm take the exit "Ulm-Ost". On state road B19 follow the signs to Ulm.
We suggest the following hotel, which is very close to the workshop venue:
Hotel Astra
Steinhövelstraße 6
89075 Ulm
Phone: +49 731 922620
It's just over the street.
Executive Manager
Scientific Computing Centre, UZWR
Ulm University
Helmholtzstr. 20, Raum 1.40
89081 Ulm, Germany
Tel.: +49 (0)731 50-31700
Fax: +49 (0)731 50-31709
E-Mail