Publications
10.


Finding User-friendly Linearizations of Partially Ordered Plans

28th PuK Workshop "Planen, Scheduling und Konfigurieren, Entwerfen" (PuK 2014)

2014

9.


Introducing Hierarchy to Non-Hierarchical Planning Models – A Case Study for Behavioral Adversary Models

28th PuK Workshop "Planen, Scheduling und Konfigurieren, Entwerfen" (PuK 2014)

2014

8.


Conditioned Belief Propagation Revisited

In Schaub, Torsten and Friedrich, Gerhard and O'Sullivan, Barry, editor, Proceedings of the 21st European Conference on Artificial Intelligence (ECAI 2014) Volume 263 of

Frontiers in Artificial Intelligence and Applications

, page 1011-1012.

Publisher: IOS Press, Amsterdam

2014

7.


On Delete Relaxation in Partial-Order Causal-Link Planning

Proceedings of the 2013 IEEE 25th International Conference on Tools with Artificial Intelligence (ICTAI 2013) , page 674--681.

Publisher: IEEE Computer Society,

2013

6.


Exploiting Expert Knowledge in Factored POMDPs

Proceedings of the 20th European Conference on Artificial Intelligence (ECAI 2012) , page 606--611.

Publisher: IOS Press,

August 2012

5.


Making Hybrid Plans More Clear to Human Users -- A Formal Approach for Generating Sound Explanations

Proceedings of the 22nd International Conference on Automated Planning and Scheduling (ICAPS 2012) , page 225--233.

Publisher: AAAI Press,

June 2012

4.


Advanced user assistance based on AI planning

Cognitive Systems Research,

12

(3-4):219--236

2011

ISSN: 1389--0417

3.


HTN-Style Planning in Relational POMDPs Using First-Order FSCs

In Joscha Bach and Stefan Edelkamp, editor, Proceedings of the 34th Annual German Conference on Artificial Intelligence (KI 2011) , page 216--227.

Publisher: Springer,

2011

2.


Parallelizing Tableaux-Based Description Logic Reasoning

In Robert Meersman and Zahir Tari and Pilar Herrero, editor, On the Move to Meaningful Internet Systems 2007: OTM 2007 Workshops Volume 4806 of

Lecture Notes in Computer Science

, page 1135--1144.

Publisher: Springer Berlin / Heidelberg,

2007

ISBN: 978-3-540-76889-0

1.


A Tableaux-based Mobile DL Reasoner - An Experience Report

Proceedings of the 2006 International Workshop on Description Logics (DL 2006)

Lake District, UK

2006
Felix Richter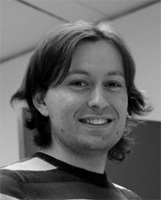 From 2001 to 2007 I studied Informatics (Diploma) at Ulm University. I completed my diploma thesis at the Institute of Artificial Intelligence (Topic: "Development and Evaluation of a Parallel Tableau Reasoner for Description Logics", in German) in summer 2007.
After two years of working in the industry I decided to return to science in late 2009. Thus, I started working as a doctoral student in the Transregional Collaborative Research Centre SFB/Transregio 62 in part project A1 (Adaptive Planning and Decision Making) in January 2010. Since October 2014 I am also the project coordinator of the SFB/Transregio 62.
Currently, the focus of my interests lies on planning under uncertainty. The goal in planning under uncertainty is to generate meaningful courses of action even in cases where the environment is only partly or indirectly observable.
As of May 2012, my surname has changed from Müller to Richter.
Contact
email: Felix.Richter(at)uni-ulm.de
phone: +49 (0)731/50-24117
fax: +49 (0)731/50-24119

Postal Address

Universität Ulm
Institute of Artificial Intelligence
D-89069 Ulm

Office

James-Franck-Ring
building O27, level 4
room 442