Holiday programme 2020
In 2020, Ulm University offers another holiday programme. This offer is voluntary with no legal obligation.
Registration opens 09 January 2020, 9 a.m.
Registrations earlier than 9 a.m. will not be accepted for reasons of fairness!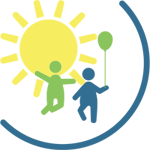 Overview holiday programme
Who can participate?
Please check the last column of the holiday programme overview to see if your child is eligible to partake in the programme.
How are places allocated?
'First come, first served.' Registrations are generally considered in the order they came in.
Exemptions from this rule for the science camps:
Places are allocated not exclusively in temporal order of registration ('first come, first served'), with set quota for the University and the Medical Faculty/University Hospital. Another deciding factor is the child's application (self-made application in form of a drawing, a hand-written text or a piece of craft work). You receive a confirmation of receipt upon registration. After the Centre for General Scientific Education (ZAWiW, Zentrum für Allgemeine Wissenschaftliche Weiterbildung) reviewed the application, we will inform you via email during the 5th week after registration opening if your child can participate in the holiday programme or is placed on the waitlist due to high demand or a missing application.
Employer contribution subject to tax and social insurances
Subsidised holiday programme
Tax and social insurances
To support the reconciliation of career and family, Ulm University, Ulm University Hospital and Ulm University of Applied Sciences offer a holiday programme for children during several weeks of the year and cover part of the costs.
This subsidy has already been deducted from the fees listed on these pages.
Employer contributions to employees for holiday childcare of school-aged children are considered non-monetary benefits and thus subject to social insurance and income tax.
Tax liability
The subsidised amount increases your gross income for tax purposes and is included in its entirety in the tax assessment according to your individual tax rate, once the monthly tax exemption limit (currently € 44) is exceeded.
Social insurance obligation
Your gross income for social insurance purposes is increased by the subsidised amount. Both the employer's and employee's contribution are calculated on this basis.
Last update: October 2016
Lecture-free periods – school holidays
Family Service
Postal address:
Universität Ulm
Familienservice
Helmholtzstr. 16
89081 Ulm, Germany
Room number: E.19a
Phone:
+49 731 50-25012
Fax: +49 731 50-25013
Availability:
Mon-Wed | a.m.
www.uni-ulm.de/family