Proviado - Visualizing Large Business Processes
Description
The overall project goal is to develop an advanced process visualization and process monitoring component that allows for configurable and personalized business process visualizations.
To streamline their way of doing business, companies are dealing with a large number of processes involving different domains, organizations, and groups. An integrated process support is highly desirable in such an environment where data (e.g., audit trails and reports) related to a particular process, and with different degrees of sensitivity, are often scattered over heterogeneous information systems. A process visualization and process monitoring component is a much-needed module in order to provide an integrated view on all these data. Despite its importance, current process-aware information systems do not provide adequate process visualization techniques. Specifically, a process monitoring component is responsible for displaying the status of process instances, for dispatching specific activities to corresponding actors, and so on. Furthermore, different user groups or roles (e.g., technicians, managers) usually have different perspectives on processes and related data. Therefore, adequate views need to be provided by the monitoring component. This is of particular importance when dealing with complex, long-running business processes with dozens up to thousands activities.
In summary, the Proviado project addresses major issues related to flexible process visualization and monitoring in distributed environments. In particular, we deal with the following topics:
process data integration & transformation
personalized process visualization
techniques for creating, maintaining, and visualizing parameterizable process views
layouting of business process graphs
access control in process monitoring components
We are implementing basic visualization concepts in a powerful proof-of-concept prototype.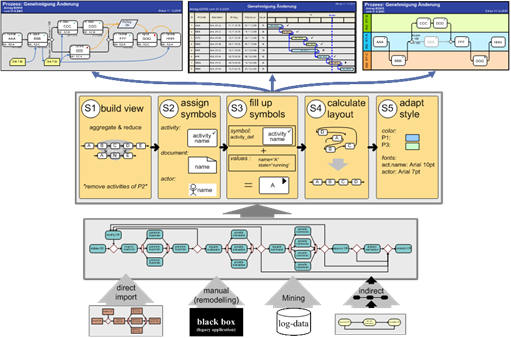 Partners
University of Ulm, Institute of Databases and Information Systems
Daimler AG, Research & Development
University of Twente, The Netherlands, Information Systems Group


Funding
The Proviado project has been partially funded by Daimler AG.


Duration
The Proviado project has been running since 2005.