Teaching - Physics Department SS 2020
The lectures for the summer semester will start on 20.04.2020 and will be offered completely online. The only exceptions are the courses with lab parts, that can be completed only in person.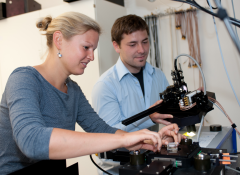 Courses
The courses will be organized via the E-Learning Platform Moodle where the information, learning materials and teaching tools will be available. Registration for the courses is in general possible during the first week of lectures via self-enrolment. The Moodle courses are linked to the course catalogue (campus online website) and the courses overview available in the button below, but can also be searched directly in Moodle.
Courses Overview of the Physics Department
External lecturers usually use the online teaching resources available at their own institution. In these cases, registration is done by e-mail.
Lab courses
Lab courses begin in the second half of the semester at the earliest. In order to receive up-to-date information, it is necessary to enrol in the corresponding Moodle course.
Exams
Please check the FAQs about Studying and Teaching