Teaching - Physics Department WS 21/22
The lectures for the summer semester will start on 18.10.2021 and will be offered mostly on campus.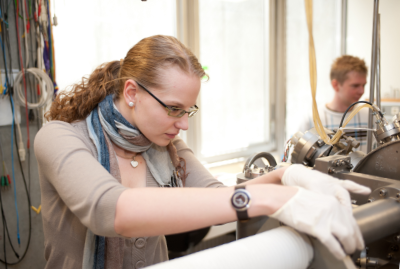 The courses will be organized via the E-Learning Platform Moodle where the information, learning materials and teaching tools will be available. Registration for the courses is in general possible during the first week of lectures via self-enrolment. The Moodle courses are linked to the course catalogue (campus online website) and the courses overview available in the button below, but can also be searched directly in Moodle.
Courses Overview of the Physics Department
External lecturers usually use the resources available at their own institution. In these cases, registration is done by e-mail.
Exams
Please check the FAQs about Studying and Teaching
Elective Courses and Seminars WS 21/22
Please find below the list of courses and advanced seminars offered in the current semester. The courses are so structured so that students will be able to deepen their knowledge and specialize in a certain area of Physics. Please keep in mind that usually previous knowledge is required to follow the courses successfully and profitably.
Biophysics and Soft Matter Physics
PHYS5117.0
Biophysics: Fundamental Methods
Lecturer:
Prof. Jens Michaelis
Course type:
lecture (4 hours/week), seminar, lab
Cycle:
each winter semester
Language:
English
Module
76025 Biophysics: Fundamental / Biophysik: Grundlagen
Credits:
6 CP
Examination:
written or oral, 16025 Biophysics: Fundamentals
Precourse:
yes, 16525 Biophysics: Fundamentals (Precourse)
Remark:

Basis for

Biophysics: Gene Expression
Biophysics: Molecular Motors
Biophysics: Cellular Biophysics

Attention: "71164 Soft Matter Physics and Biophysics" (SS) and "76025 Biophysics: Fundamentals" (WS) are introductory courses into biophysics with similar content. Only one of them can be credited in the degree programme.
PHYS5128.0
Molecular Motors / Molekulare Motoren
Lecturer:
Prof. C. Gebhardt
Course type:
Lecture (2 hours/week)
Cycle:
each Winter Semester
Language:
English
Module:
74003 Molecular Motors / Molekulare Motoren
72234 Biophysics: Molecular Motors / Biophysik: Molekulare Motoren
Credits:
3 CP (74003)
6 CP (72234)
Examination:
Written test
Remark:

For module "72234 Biophysics: Molecular Motors" two parts are necessary:
Part I: PHYS5128.0 Molecular Motors
Part II: PHYS5148.0 Biophysics Lab II
Condensed Matter Physics and Nanosciences
Econophysics
PHYS5427.0
Econophysics: Non-Equilibrium Statistics /
Ökonophysik: Nichtgleichgewichtsstatistik
Lecturer:
PD Dr. Jürgen Stockburger
Course type:
lecture with exercises (5 hours/week)
Cycle:
winter semester 21/22, summer semester 2023
Language:
English
Module
71778 Econophysics: Non-Equilibrium Statistics /
Nichtgleichgewichtsstatistik
Credits:
6 CP
Examination:
written, 12074 Nichtgleichgewichtsstatistik
Precourse:
yes, 12075 Nichtgleichgewichtsstatistik (Vorleistung)
Remark:
Plasma Physics
PHYS5507.1
Plasma Physics: Waves, Instabilities and Turbulence
Lecturer:
apl. Prof. Dr. Emanuele Poli
Course type:
lecture with exercise (5 hours/week)
Cycle:
each winter semester
Language:
English
Module
71063 Plasma Physics: Fundamentals
Credits:
6 CP
Examination:
oral, 12079 Grundlagen der Plasmaphysik
Precourse:
yes,

12080 Grundlagen der Plasmaphysik (Vorleistung)

Remark:
---
Quantum Science and Technologies
Additional Modules - Recommended
| | |
| --- | --- |
| PHYS6397.0 | Successful Project Management – Fundamentals |
| Lecturer: | Dr. Volker Kraus |
| Course type: | lecture with seminar (3 hours per week) |
| Cycle: | winter semester |
| Language: | English or German |
| Module | new |
| Credits: | 4 CP |
| Examination: | oral or written |
| Remark: | announcement |
| | |
| --- | --- |
| ENGB 73028 | Biosensors and Biochips |
| Lecturer: | Dr. Alberto Pasquarelli |
| Course type: | lecture (4 hours/week), seminar (2 hours/week), lab project (20 hours) |
| Cycle: | winter semester |
| Language: | English |
| Module | 73028 Biosensors and Biochips |
| Credits: | 8 CP |
| Examination: | oral or written, 13284 Biosensors and Biochips |
| Precourse: | 13479 Biosensors and Biochips (Vorleistung) |
| Remark: | |
| | |
| --- | --- |
| ENGF 70918 | Micro- and Nanotechnology |
| Lecturer: | Prof. Peter Unger |
| Course type: | lecture (2 hours/week), seminar (1 hour/week) |
| Cycle: | winter semester |
| Language: | English |
| Module | 70918 Micro- and Nanotechnology |
| Credits: | 4 CP |
| Examination: | oral or written, 11330 Micro- and Nanotechnology |
| Precourse: | No |
| Remark: | |
Dr. Maria-Verena Kohnle
Physics Academic Affairs Commitee
Albert-Einstein-Allee 11
89081 Ulm
Phone: 0731/50-23032
Office: N25/3106