Private Housing
There are a lot of ways to find private housing in Ulm and Neu-Ulm. However, you should bear in mind that shortly before the semester starts, it will be more difficult to find a room. Therefore, you better start looking in good time.
Most rooms and flats are rented out unfurnished. There are many online services, but most landlords/flatmates want to meet you in person before renting out their flat/room. We also highly recommend to look at a room/flat first (and also talk to the landlord/prospective flatmates in person) before reaching a binding agreement.
Internet Databases
Webpage of the Studierendenwerk Ulm:
The Studierendenwerk Ulm offers a list (only in German!) with other larger providers, mostly for student rooms.
Webpage from Ulm University:
Other Online Services (mostly in German!):
Bulletin Boards
You can find bulletin boards (Schwarze Bretter) all over the universities in Ulm and Neu-Ulm. They display all kinds of advertisements, such as offers for rooms or search requests for flatmates.
Bulletin boards with housing offers:
Ulm University, StuVe, M25, Room 224 (bulletin board)
Ulm University of Applied Sciences, in the lobby of building B (bulletin board)
University of Applied Sciences Neu-Ulm, Main building, 1st floor, blackboard opposite Club B
Studierendenwerk Ulm, Manfred-Börner-Straße 5, Room C 157, 89081 Ulm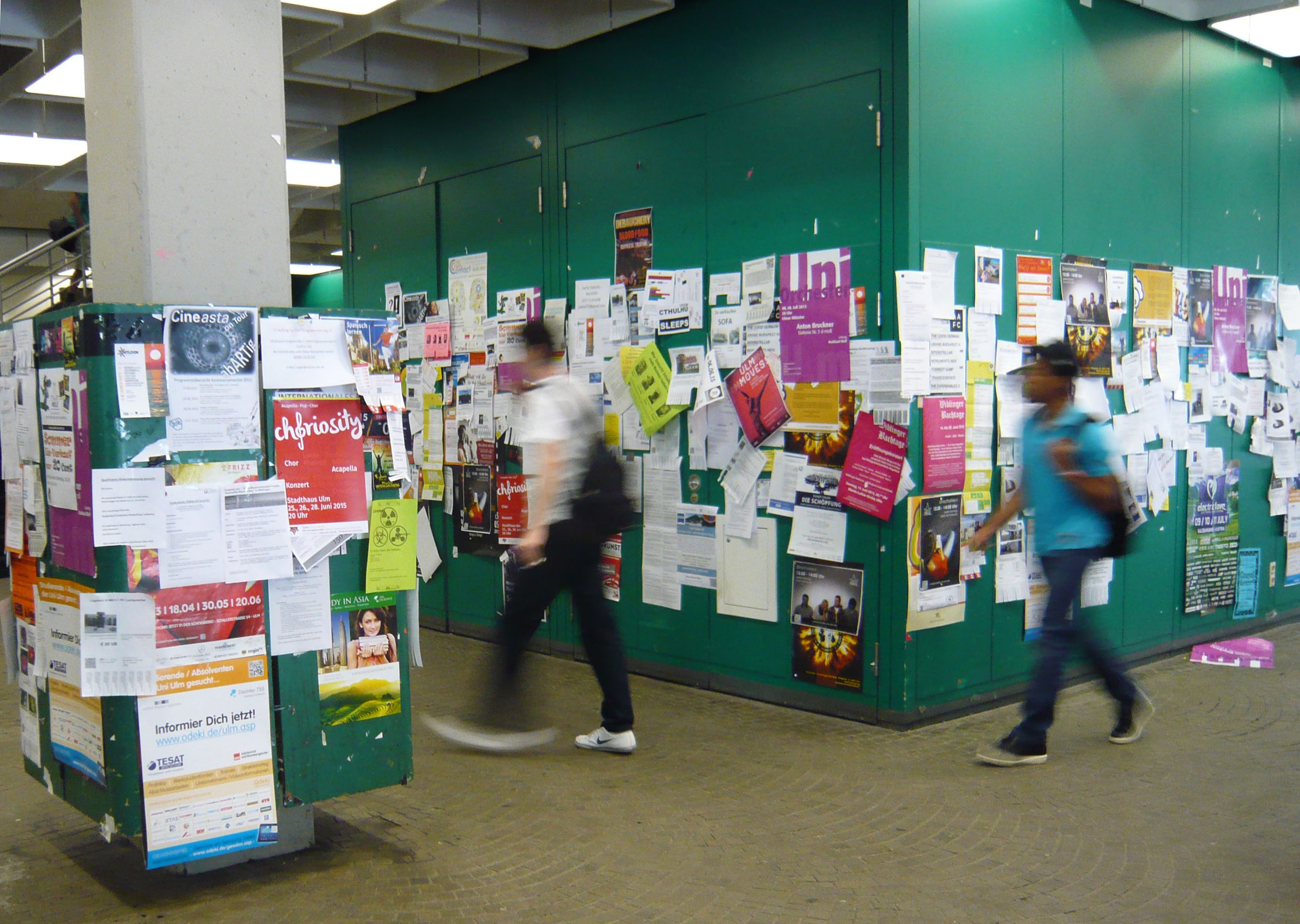 Newspapers
Südwest Presse Ulm is a daily newspaper in Ulm. Housing advertisements are mainly published on Wednesdays and Saturdays.
To place an advertisement (subject to charge) please call: Tel. +49 (0)731/156602 or fill out the online form on https://anzeigenbuchung.swp.de (Follow the subject: Immobilienmarkt, only in German)
Online version: www.immo.swp.de (only in German!).

Ulmer Wochenblatt is a free weekly paper (branch of the Südwest Presse), distributed to private households every Wednesday. The housing advertisements listed there are often the same as in Wednesday's Südwest Presse.
Schwäbische Zeitung is a daily newspaper in Ulm. Housing advertisements are mainly published on Wednesdays and Saturdays.
Online version: immo.suedfinder.de (only in German!)