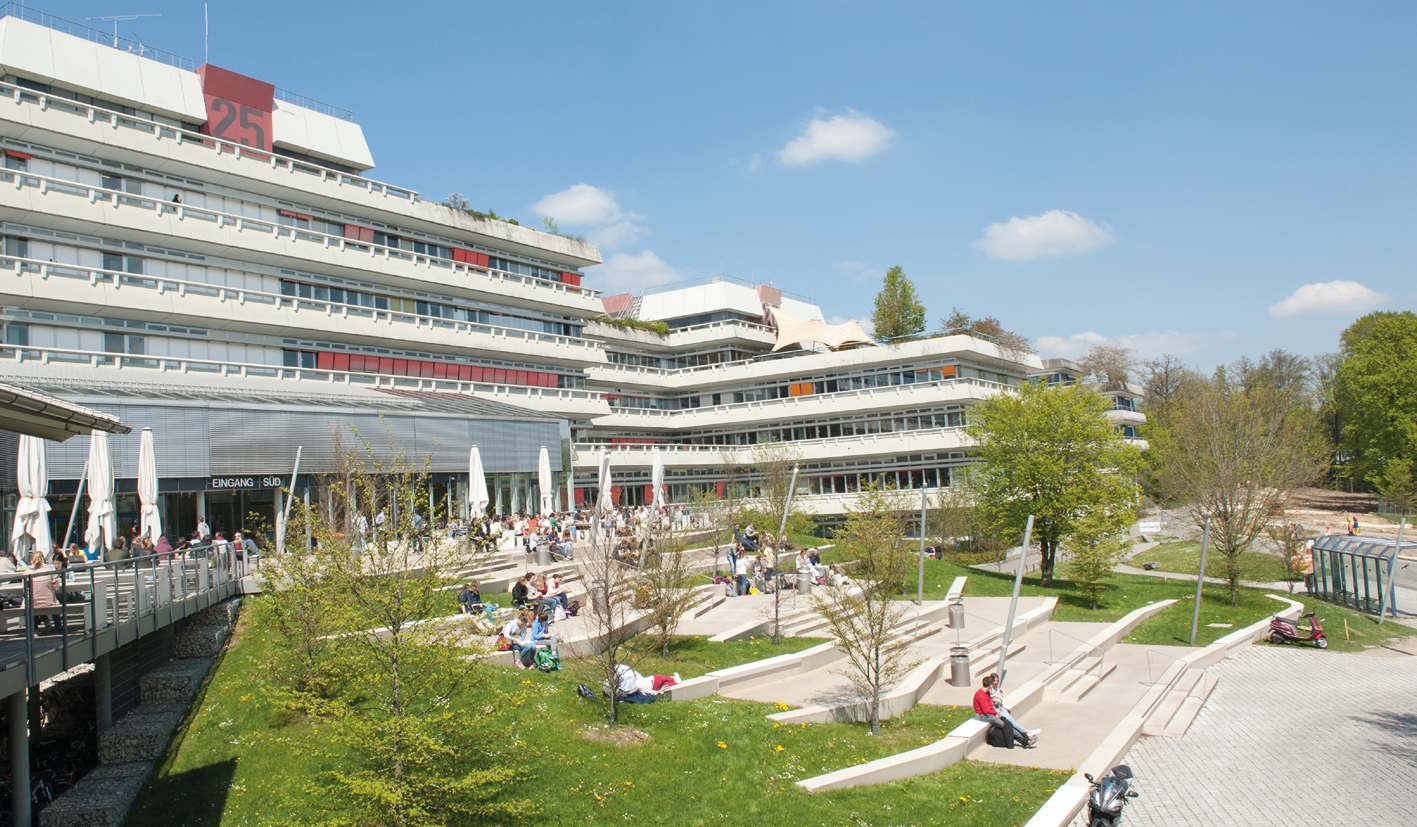 Ulm: Where Tradition Meets Innovation
Founded around 850, Ulm is rich in history and traditions. The city is famous for its gothic minster with the world's tallest steeple (161.53 m or 529.95 ft). And it is the birthplace of Nobel Prize winning physicist Albert Einstein.
Ulm is situated on the banks of the river Danube, which marks the border between Baden-Württemberg and Bavaria. With approx. 125,000 inhabitants, Ulm is a city of short distances, but a multitude of cultural offerings.
Ulm University is the youngest public university in the state of Baden-Württemberg. Today, more than 10,500 students are enrolled in one of Ulm University's four faculties.
The campus is located in the Science City outside the city centre. The curricula are designed around cutting-edge research.
Ulm University is a founding member of YERUN: the Young European Research Universities Network, a cluster of highly-ranked, young universities in Europe, which serves the prime objective to strengthen and develop cooperation in the area of scientific research, academic education and service to society on an equal basis and for their common benefit.
In Ulm, um Ulm und um Ulm herum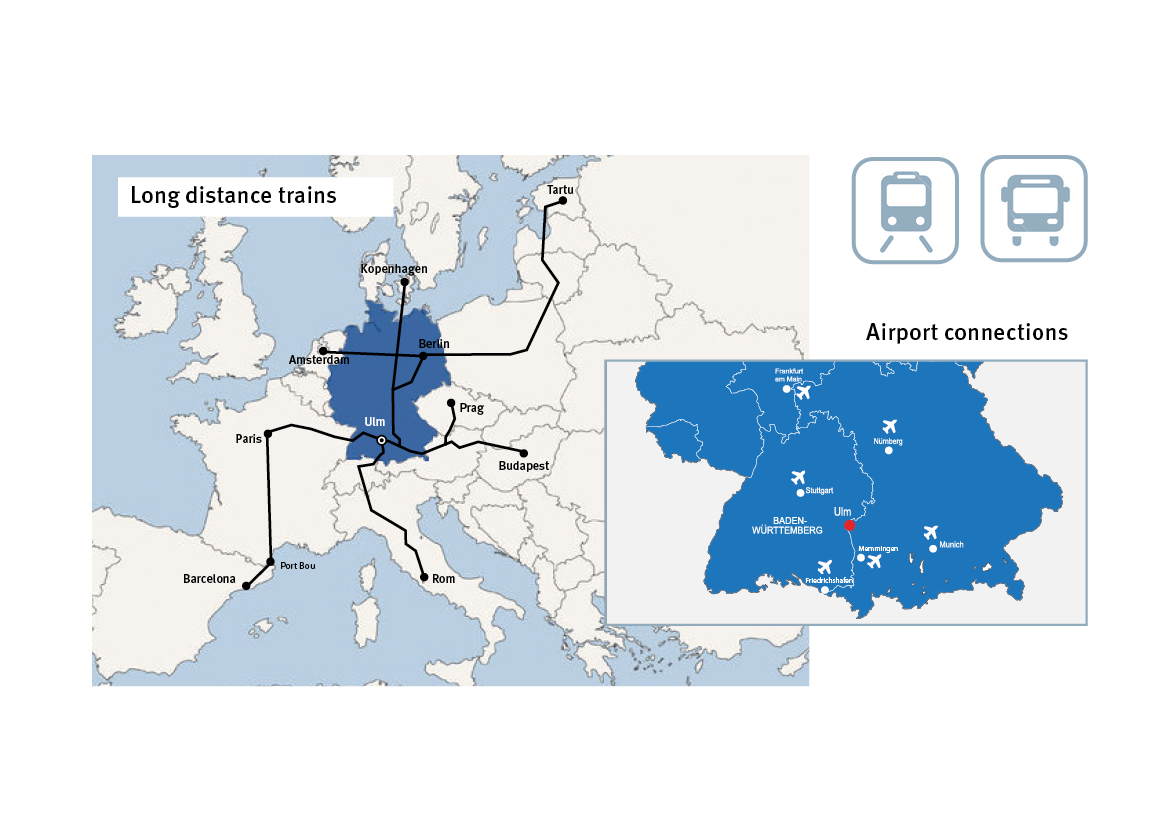 By the end of your stay in Ulm, you should be able to pronounce this famous tongue twister, which roughly means: In Ulm, around Ulm and round around Ulm. And hopefully, you will have seen quite bit of our city and region. Find out how to get to Ulm - and where to get from Ulm.
Ulm can be easily reached by fast train connections from any of the airports in the region: Stuttgart, München, Memmingen, Friedrichshafen, Frankfurt or Nürnberg. Yet, it is also possible to travel to Ulm using long distance trains or busses, e.g. from Paris, Rome or Prague, even from Tartu, Budapest or Barcelona.
On your weekends or during vacation, you will enjoy visiting historical cities like Heidelberg, Freiburg or Rothenburg ob der Tauber, and the famous Neuschwanstein Castle is also not far away. If you like hiking and winter sports, you will find plenty of opportunities in the nearby Black Forest and the Alps. With its shorelines across Germany, Austria and Switzerland, Lake Constance offers many attractions to explore during your free time.
All Beginnings are Difficult
This is particularly true when you start your studies in a foreign country in an unknown environment. In order to make your start in Ulm as easy and successful as possible we have the following offers for you:
Student Tutors for Exchange Programme Students: S.T.E.P.S.
All new incoming students will be picked up by a S.T.E.P.S. tutor at the train or bus station in Ulm. The tutor will have a welcome package for you and the keys to your room. Your tutor will help you to get to your residence, assist you with all the administrative procedures during the first few days and show you around the city and the campus.
Intensive German Language Course & Orientation Days
Prior to the start of every semester, the International Office organizes an Intensive German Language Course (levels A1|A2|B1). The course takes place in March and September. Students can earn 3 ECTS. All new students from partner universities are invited to participate in the citiy and library tours and the Welcome Day offered in April and October.
The local Erasmus group organizes many fun activities for international students: a city rallye and a welcome party; excursions and day trips, e.g. to the Oktoberfest in Munich; swimming, skating, skiing, and much more. Probably the best way to make new friends and get to know Ulm.
It is easy to feel at home in the city of Ulm, however, it is quite hard to find a furnished room or apartment on the private market. But don't worry: you won't have to sleep under a bridge across the Danube.
The International Office cooperates closely with the Studierendenwerk Ulm, the local Student Service Agency. They manage 10 student residences in Ulm with over 1,600 rooms, most of which are furnished. And although we cannot guarantee a room for every applicant, we are proud to say that we have always been successful so far. Just make sure to submit your application on time!
Housing assistance by the International Office is provided free of charge to all students from partner universities who come to Ulm University for a student mobility for studies (SMS) in the framework of the Erasmus+ programme.
Ulm University offers about 70 study programmes, including 13 Master programmes taught entirely in English. And even our German-taught programmes offer select courses in English. Erasmus+ students are expected to take the majority of their courses from programmes in that department in which the Erasmus+ agreement between Ulm and their home institution was reached.
Students may choose up to two courses per semester from study programmes in other departments or faculties. However, admission to certain courses in other departments or faculties may be subject to capacity restrictions.
In addition, students may choose courses offered by the Language Center or the Humboldt Centre for Philosophy and Humanities.
It is possible to choose a combination of courses in German and English, as long as the student meets the requirements in both languages.
It is even possible to choose courses from both, Bachelor and Master programmes, as long as the student meets the requirement for Master-level courses.
Please note:
In order to attend Master courses, students should have successfully completed at least 3 years of study (approx. 180 ECTS) in the field of study of the Erasmus agreement.
Exceptions may be granted to students in their final Bachelor year, if the home university confirms that this mobility window is offered explicitly for students to take Master courses.
All students must meet the language and academic requirements of any given course.
Do I have to speak German?
Yes, of course you should speak German if you are planning to live and study in Germany for a semester or two. How little or how much depends on what you plan to study.
Our programmes in Medicine and Dentistry are taught in German. Whether you are studying in the classroom or have practical training in the hospital, where you interact with patients and nursing staff, good command of German is a must.
Our Bachelor programmes are mainly taught in German, even though we are making an effort to offer more and more courses in English. A lot of our Master programmes are taught in English, but there are also a lot of courses taught in German. Thus, it always depends on your chosen subjects and the teaching language in your courses, whether you need to speak German - or if good English is sufficient.
If you plan to do a project in one of our labs or do your final thesis during your Erasmus+ mobility, good English is sufficient.
What is "good German" or "good English"?
By the time you start your studies at Ulm University, you should have reached level C1 in the language(s) of instruction. However, at the time of application, we only ask you to submit a "Certificate of Language Proficiency" that proves Level B2. We even accept applications from students who have only level B1 in German at that time. However, if they are accepted, participation in our intensive German language course in March or September, before the start of the official lecture period, is mandatory for them.