Subject-specific Info Sessions
Choosing the right studies and professional career is not easy. A lot of young people cannot find an appropriate answer to these questions after graduation from school and even after military service, volunteer service or au pair stay.
No wonder, many students are unhappy with their studies. As a result, they consider changing the subject or even dropping out. However, decisions that are not thought-out properly often have to be revised – sooner or later. One reason for this situation is the lack of information about course content, study curriculum and requirements.
In view of the steadily increasing range of studies, the considerable number of different selection procedures it is vital to obtain the relevant information in time. Our goal is to give you the opportunity to get to know Ulm University, the individual courses including their content, their goals and potential professional fields.
Dates and registration will be available again in spring 2024
Study fairs for prospective students
Each year we visit regional and supra-regional study orientation fairs for pupils where the Zentrale Studienberatung (central student advisory services), course advisors and students make themselves available to answer your questions. You can find the current dates in our events calendar.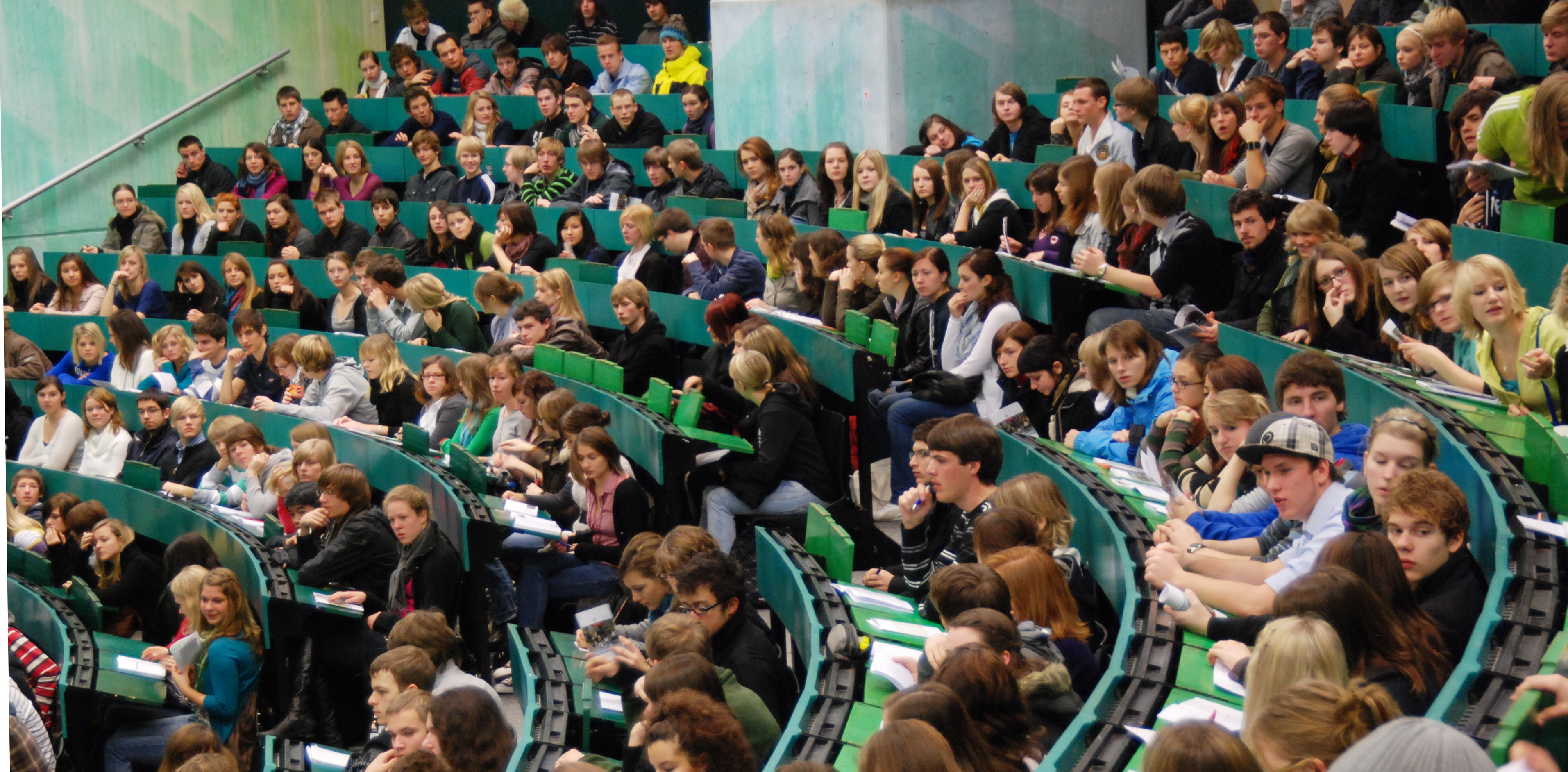 How do I support my child in the study and career choice process?
Parents and teachers play an increasingly important role in the process of choosing a course of study and career. However, they often have many questions of their own regarding the study programmes, admission procedures and study conditions. For this reason, the Central Student Advisory Office at Ulm University offers an information evening twice a year. This information evening is especially aimed at parents whose children attend course levels 1 and 2 (or classes 12 and 13 of vocational high school), as well as interested teachers.
What is studying at Ulm University like? How are course contents taught? How do the facilities look like where students spend their everyday life? Come to the taster lectures and see for yourself!
The purpose of a taster visit is not to grasp the entire course content. Even students who have been following this specific lecture all semester long sometimes struggle with that. The taster lectures are rather an opportunity for prospective students to get a feeling for the differences to what they know from school, the different speed of teaching and the atmosphere in a lecture hall.
Next event: 31st October til 3rd Novembr
(1st November holiday - there will be no event on that day)
Information will be distributed autumn 2023.
Registration may be required for some subjects.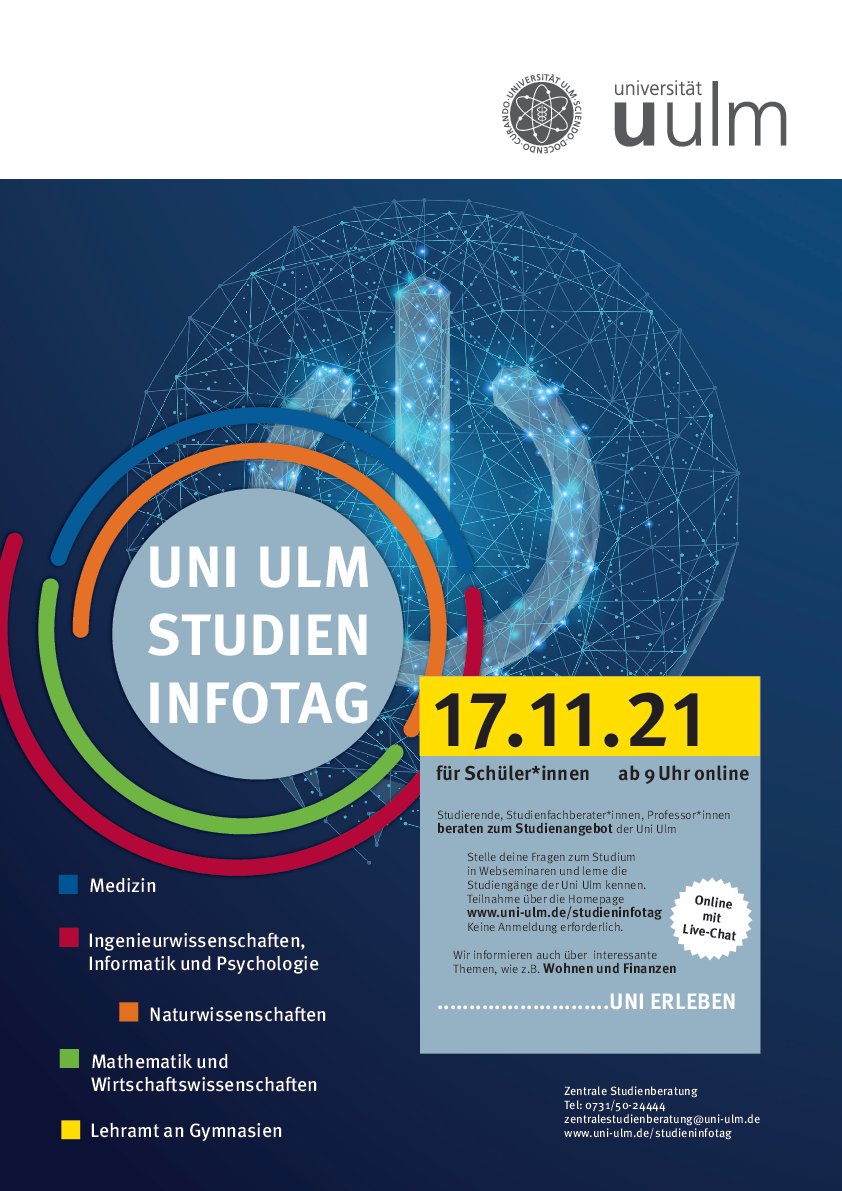 The Info Day provides an overview on study opportunities, an introduction to the specific study programmes and gives insight into the different institutions of Ulm University. What is more, you will gain an impression of future fields and possibilities of employment and prospects for graduates. You can experience science, look over scientists' shoulders and join guided tours through laboratories and institutes.
Various stands in the lobby of Uni Süd provide information material and offer the opportunity to talk to students and representatives of different fields of study.
A comprehensive supporting programme offers information on application and selection procedures, study financing, language courses offered at Ulm University and study exchange programmes with partner universities abroad.
The next Info Day will be held on 22nd November 2023. Information about the day will be distributed in autumn 2023.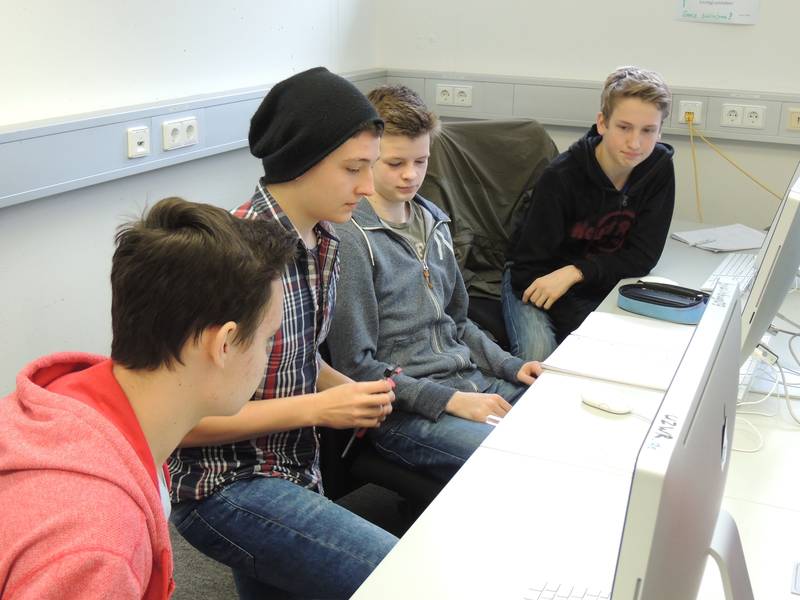 BOGY - Interdisciplinary internship
Ulm University offers an interdisciplinary internship in the MINT subjects (mathematics, computer science, natural sciences and technology) as part of the vocational orientation at grammar schools (BOGY). BOGY is designed to help students understand their professional desires, talents and abilities. They are given the opportunity to gain clarity about job descriptions, study and training opportunities, internships and entrance requirements for universities.
The one-week internship provides insights into some of the departments of biology, chemistry, physics, mathematics, computational science and engineering, computer science and electrical engineering. You can find more information about the subjects on the course pages of the Ulm University. The activities range from attending lectures to gaining insights into research to the students' own project tasks. In addition, a contribution from the Central Student Advisory Service is also intended to address questions relating to university studies, application and admission.
Interested pupils can apply to Mrs. Susan Czogalla by e-mail with a cover letter, curriculum vitae and copy of their last report card.