Studying with disabilities
With a degree, you start a new and independent life. It brings with it many new people, environments and experiences. With health restrictions, this new life requires more energy and more attention.
The University of Ulm would like to treat you equally in this stage of your life. Students with mobility, visual or hearing impairments are addressed as well as students with chronic and mental illnesses or even with partial performance disorders. Students may have a variety of health impairments, both visible and invisible. However, it is not only disabilities expressed in percentages that can affect one's studies. Regeneration times after accidents as well as chronic or prolonged illnesses as well as partial performance disorders also limit personal performance in studies.
Important information about studying with impairments
Before study
At Ulm University, 5% of the study places (in medicine and dentistry 2%) are reserved for special cases of hardship in both bachelor's and master's degree programs. Prospective students with an impairment for whom non-admission would mean exceptional hardship can, under certain circumstances, apply for a hardship case. If approved, prospective students will be granted admission without regard to grade point average or waiting period.

Reasons for a hardship application
Serious health or social reasons may qualify as special hardship. The following special health reasons justify immediate admission to the study program:
The applicant:
Suffers from an illness with a tendency to worsen, which will in all likelihood make him/her unable to endure the stresses of studying in the chosen degree program at a later date.
Is limited to a narrow occupational field because of the impairment. The intended course of study suggests successful occupational participation.
Must give up previous studies or occupation for health reasons. A reasonable bridging of the waiting period is not possible for this reason.
A severe disability (according to the Severely Disabled Persons Act) alone does not usually justify immediate admission under the hardship provision. Rather, you must have such serious health or social problems that you cannot be expected to wait even one semester for admission, even if particularly strict standards are applied. This means that there must be a special exceptional situation. It is therefore necessary to provide evidence of a particularly serious personal exceptional situation:
Specialist medical report
The reasons for hardship must be proven by a specialist medical report that adequately comments on the reasons asserted. It should contain statements that are comprehensible to medical laypersons about the origin, severity, course and treatment options of the impairment and a prognosis about its further course.
Additional evidence
Since each individual case is different, applicants should check whether they have additional evidence (in particular, severely disabled persons' certificates or declarations from the pension office).
Personal statement
Applicants should explain their case of hardship in detail in an informal application.
Other special applications with which you can improve your chances of admission are applications for disadvantage compensation to improve the average grade of the university entrance qualification.
By submitting an application for disadvantage compensation to improve the average grade, applicants can claim impairment-related circumstances for which they are not responsible and which have prevented them from achieving a better average grade. (Justification will be provided by schools).
The Central Student Advisory Service provides information to prospective and current students on all aspects of studying. Here you will find information and advice on the range of courses on offer, the course of study, requirements and admission conditions, as well as application procedures and financing options.
You are also welcome to send us an e-mail or letter with your concerns. The consultation is of course subject to confidentiality and is free of charge.
Take the opportunity to get to know the university, the campus and the city before you start your studies. Visit the study information day in November, the taster lectures during the autumn vacations or our subject-specific information events in early summer. Of course, you can also visit the university on all other days. Especially with physical limitations it is important to know your surroundings well. All the more reason for you, as well as for all those interested, to get an idea of the university before you start your studies. But it is also helpful for us staff to get to know you beforehand so that we can respond to your needs. We are also happy to meet you for a confidential counseling session in the rooms of the Central Academic Advising Office by prior appointment. These meetings can also take place together with the respective study advisor. In this way, special features of your studies can be discussed in advance and implemented in a timely manner.
Im Studium
BAföG is primarily used to finance studies if parents cannot finance the studies. BAföG can usually cover the general costs of studying. However, students with disabilities or chronic illnesses often have higher financial needs due to these circumstances, as far as necessary living expenses and studies are concerned. These additional needs are not covered by BAföG.
The Federal Training Assistance Act (BAföG) provides for some relief in the case of disability. For example, there is an additional allowance when determining the income of the applicant's parents or spouse. In addition, there are hardship regulations regarding the property allowance for students with disabilities.
They can also apply for disadvantage compensation with regard to the age limit or the maximum duration of support (longer study period). You can also apply for a disadvantage compensation in case of a change of study program, if an impairment makes this necessary. Please talk to the Studierendenwerk as early as possible.
Additional requirements for living expenses due to a disability
Students with disabilities or chronic illnesses often have higher financial needs due to these circumstances, as far as necessary living expenses are concerned. These additional needs are not covered by BAföG. For this purpose, state transfer payments are to be claimed (social assistance, Hartz IV or basic security). Under certain conditions, a pension due to reduced earning capacity can also be considered, although some special features must be taken into account.
Additional needs in everyday study due to disability
Students with disabilities also have considerable additional needs in their everyday study life. For example, they often need mobility aids due to insufficient accessibility or are dependent on certain technical work equipment and also on personal support services due to their disability. Such education-related additional needs can largely be covered by the integration assistance for attending the university. It is best to contact the representative before applying. You will find the contact in the margin.
You have a right to study without discrimination and with equal opportunities. This is regulated by the UN Convention on the Rights of Persons with Disabilities, the Basic Law, the Higher Education Framework Act and the State Higher Education Act. Compensation for disadvantages is a legal instrument to realize your right to equal opportunities in your studies. They are a tool to compensate for barriers and disadvantages on an individual basis.
Students with disabilities and chronic illnesses usually need more flexible study conditions, as they are often unable to devote their full energies to their studies, but need additional time and energy for organizing everyday life, therapy and rehabilitation measures. Difficulties often arise here because study and examination regulations leave too little leeway for this individual study organization.
Compensation for disadvantages must be applied for in writing, preferably at the beginning of your studies, to the chairperson of the examination board for your degree program. As proof of an impairment that makes studying difficult, you can submit a certificate from a specialist doctor, sometimes also from a family doctor, or a statement from your psychotherapist. Please note: You have the right to compensation for a disadvantage, but not necessarily in the form you desire. It is best to contact the designee before submitting your request. You will find the contact in the margin. He will help you with the formulation of the application.
Here are examples of possible disadvantage compensation:
Extension of Time: The deadline for submission of written assignments, practice sheets, projects, etc. will be extended appropriately.
Deadline extensions: This modification may be allowed if there are serious reasons (e.g. illness, special stress situations, failure of assistants).
Allowing compensatory/replacement work: Making up absences through written submissions, individual deadlines for assignments and exams.
Semester Off: If you are unable to attend classes due to a prolonged illness and this prevents you from completing the expected course and examination work, another option is to apply for a semester of leave. However, you must bear in mind that in a semester of leave, as a rule, no academic achievements are
and you are then not entitled to BAföG.
These are measures that compensate for impairment-related difficulties in the examination process. Compensations for disadvantages are not awarded as a lump sum, but are always individual and situation-related.
Compensation for disadvantages must be applied for in writing to the chairperson of the examination board of your degree program no later than 4 weeks before the examination phase.
As proof of an impairment that makes studying difficult, you can submit a medical certificate from a specialist, sometimes also from a family doctor, or a statement from your psychotherapist. Please note: You have the right to compensation for a disadvantage, but not necessarily in the form you desire. It is best to contact the designee before submitting your request. You will find the contact in the margin column. He will help you with the formulation of the application.
Hier sind Beispiele für mögliche Nachteilsausgleiche:
Time extension: The deadline for submission of exams will be extended appropriately. A time extension may also take into account required additional breaks.
Extra room: An exam is written in a separate room. This form can, but does not have to, be combined with an extension of time.
Extension of deadlines: This modification may be allowed for homework and final papers if there are serious reasons (e.g. illness, special stress situations, failure of assistants).
Conversion of written examinations to oral examinations and vice versa, if this complies with the disability/chronic illness as well as the subject specificity.
Provision of technical and/or personnel assistance, e.g. PCs for students with visual impairments, use of non-specialized n external typists in case of severe limitations of the typing ability, approval of sign language interpreters for students with hearing disabilities.
The University of Ulm will support you in the best possible way by providing disabled parking spaces or barrier-free access to the buildings. However, it is advisable that you get to know the local conditions at an early stage and, if necessary, make an effort to find a transport service or even an assistant.
There are several wheelchair-accessible restrooms on campus whose doors can be opened with a Euro key. This is a Europe-wide valid locking system for handicapped accessible sanitary facilities issued by the Club Behinderter und ihrer Freunde in Darmstadt und Umgebung e.V. (Club of handicapped people and their friends in Darmstadt and the surrounding area).
Ways on the Campus
barrierefreier Lageplan der Universität Ulm
Fahrdienste in Ulm und Neu-Ulm
Nahverkehr in Ulm und Neu-Ulm
Mobilität in Ulm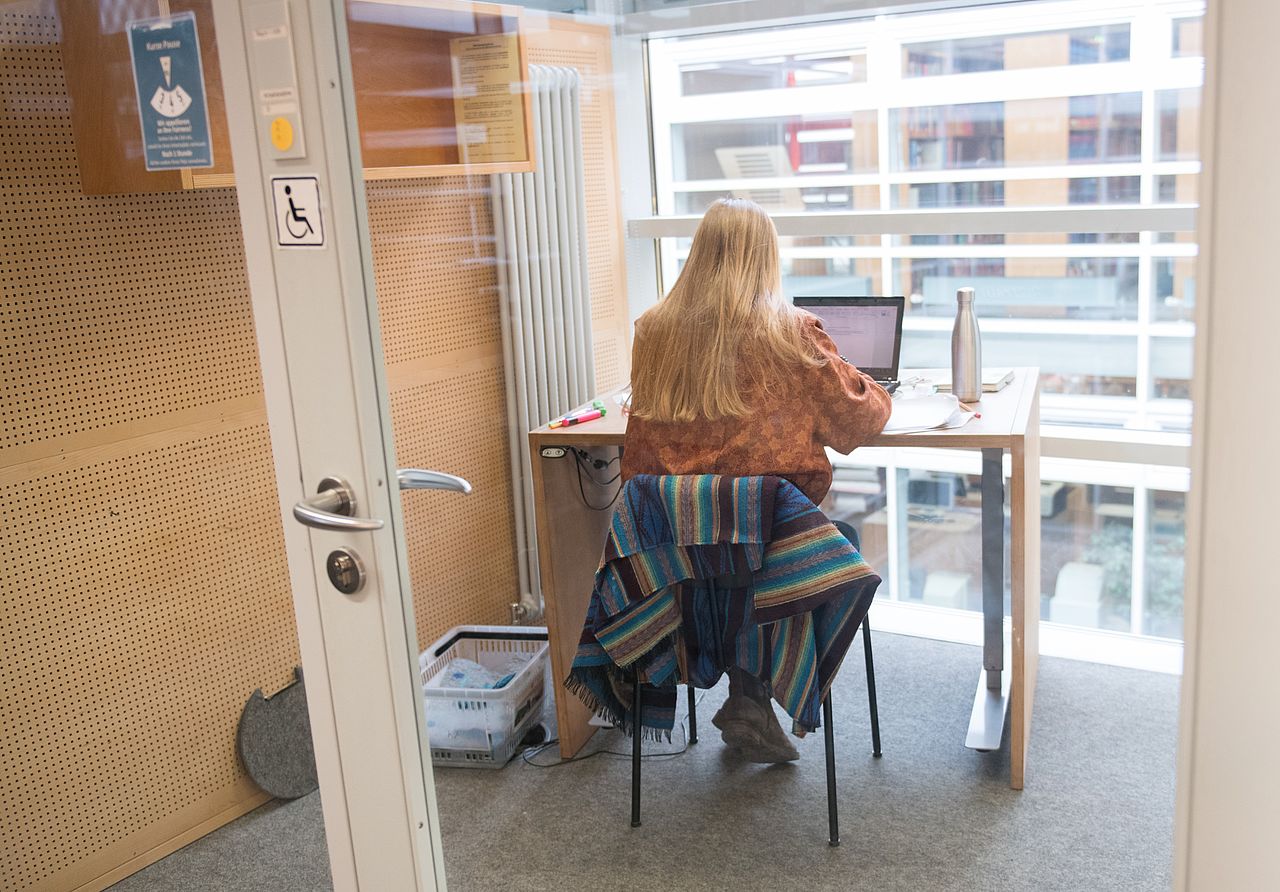 The University Library has an accessible computer workstation in a work cubicle for students with disabilities. The room is large and has a wide door so that it can be used with a wheelchair and/or accompanying person. The workstation itself is equipped with an electric height-adjustable desk.
Please register your need at the circulation desk. The work cubicle is always occupied Mon. - Fri. in the morning from 8 am; Sat. from 10 am. There you will also receive support for technical questions or media usage.
In addition, special software and hardware are available for loan at the library's Service-Point:
Screen reader
Large character keyboard
Speech output and magnification software for various visual impairments
Read-write-difficulty compensation software
After study
Despite many efforts by politicians and legislators, the labor market opportunities for people with impairments are still worse than those of equally qualified people without impairments. Nevertheless, the general statement also applies here: the higher and more suitable the qualification, the better the chances on the labor market. Prospective students with disabilities and chronic illnesses should by no means base their choice of study solely on allegedly good or bad chances on the labor market. For one thing, it is very difficult to make long-term labor market forecasts. And on the other hand, the success of studies and thus the chances on the labor market depend decisively on the motivation and professional skills of the students. Against this background, recommendations for courses of study that seem to be particularly suitable for people with certain impairments should also be carefully examined. We would be happy to support you in your basic considerations of how things can continue for you after graduation.
Here are some useful links:
Seminar "Berufseinstieg mit Behinderungen und chronischen Krankheiten"
Mentoring-Programm von "iXNet – inklusives Expert*innen Netzwerk"
Teachers and employees
Students with hearing and visual impairments are particularly dependent on digital accessibility, as are students with neurological disorders such as Asperger's syndrome, ADD, ADHD and multiple sclerosis or dyslexia.
In the following exemplary working aids for accessible teaching you will also find instructions for the creation of accessible documents as well as some important points for lecture recordings:
In General:
Please leave online until exams and post exams online.
Video- und Audiodateien:
Ensure very good sound and image quality (headset, check recording presets).
Disturbance-free background (no windows or other light sources in front of the camera)
If possible, insert subtitles for audio elements or transcripts and/or lecture notes. Many people cannot listen and take notes at the same time (mobility impaired, visually impaired, and those with slowed thought processes caused by medication or neurological disorders).
Live lectures/seminars/tutorials:
Pre-setting of presentations in moodle (students with sensory impairments can thus view the content beforehand and better follow your presentation live).
Avoiding chats for relevant topics (chats are not usable for students with visual impairments; live written chats are also a barrier for students with reading dyslexia or from the autism spectrum).
Documents:
Using style sheets for headings
Using style sheets in documents
Short titles in headings
Writing alternative texts for used images and objects
Specifying column headers in tables
Meaningful hyperlink texts
Simple and clear table structures
Avoiding too many empty cells in the table structure
Avoiding unanchored objects
Avoid graphic watermarks
Documents must be high-contrast (black font and white background, avoiding combinations of red-green, red-orange, blue-green)
Avoiding handwritten documents and documents saved as images
Use of sans-serif fonts (Accurate, Verdana, Tahoma, Arial, Grotesque, Helvetica, Lucida Sans)
Avoiding non-editable PDF documents (do not create PDFs via the print menu, but via Export or with Acrobat add-in under "Create PDF")
The representative for students with disabilities or chronic illnesses is the contact person for prospective students and students with health impairments relevant to their studies, as well as teachers and employees of the university.
The State Higher Education Act for Baden-Württemberg in its version of 1.4.2014 obliges the universities of the state for the first time to appoint a representative for the interests of students with disabilities or chronic illnesses.
The representative advises students and prospective students in particular on issues of compensation for disadvantages in university admission, studies and examinations, as well as on the financing of studies. If necessary, he/she provides support in the organization of studies and mediates between students and teachers or the administration. He can provide information about structural conditions as well as the barrier-free equipment of the University of Ulm.
Impairments of students in Germany and Ulm
In the 2016 summer semester, 11% of students reported having one or more health impairment(s) that they said made their studies more difficult. The proportion of impaired students has thus increased by four percentage points compared to 2012. (21st Social Survey, German Student Union (DSW))
The characteristics of the study difficulties are just as varied as the impairments themselves. The obvious impairments are not always the most severe impediments to everyday study. For more than half of all those affected, the impairment is not apparent at first glance.
Form of health impairment that makes it difficult to study.

best 2

(2018)

Mental illness esp. depressive and anxiety disorders

53 %

Chronic somatic disease

20 %

Other multiple impairment

5 %

Movement impairment

4 %

Hearing impairment/deafness, speech impairment.

3 %

Visual impairment/blindness

3 %

Partial performance disorder

4 %

Other impairment or serious illness

6 %

beeinträchtigt studieren – best2; Datenerhebung zur Situation Studierender mit Behinderung und chronischer Krankheit 2016/17, Herausgeber: Deutsches Studentenwerk, Berlin 2018.
Impairments that make studying more difficult have a major impact on the course of studies. More than one-third of the impaired students have already completed more than ten semesters of higher education, while only slightly more than one-fifth of those without a study-impairing impairment have completed this length of study.
Representative for students with disabilities or chronic illnesses.
Behrouz Behbehani M.A.
Zentrale Studienberatung Universität Ulm
Helmholtzstraße 22, Raum 046
0731/50-22054
behrouz.behbehani@uni-ulm.de