In the following we give a description to set up your university email address with Microsoft Outlook.
Additionally we describe how to connect Outlook with the university address book.
Outlook will now try to connect to the university server and get the configuration settings. This can take a few seconds, make sure you are connected to the internet. When Outlook is finished, you can finalize the configuration process by clicking 'Finish'. You have now successfully configured your university email with Microsoft Outlook.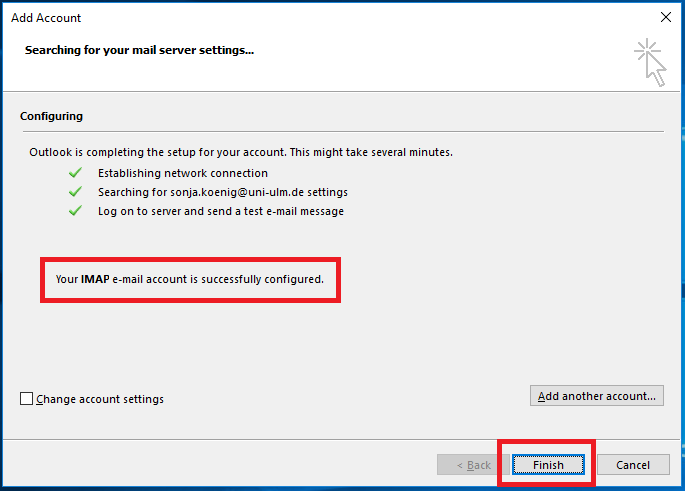 In the following we show you how you can access the settings you have configured for your university email.
Using this you can double-check your settings, make changes, or fix errors.
Outlook Address Book Configuration
The following steps show you how to connect Microsoft Outlook to the university address book.
Communication and Information Centre (kiz)
Please contact us if you have questions or problems related to the kiz services:
Office hours
Monday - Thursday
09:00 h - 12:00 h and 13:00 h - 15:30 h

Friday 09:00 h - 12:00 h
Phone
+49 (0) 731 / 50 - 30000
Telefax
+49 (0) 731 / 50 - 1230000
Order a Callback
helpdesk(at)uni-ulm.de
Support Portal
[more]
Using self-service functions of the Identity Management System (IDM): Administer permissions, subscribe to services, change passwords.
With about 400 keywords you will get direct access to our services. If something isn't listed, please contact our Internet Editorial Office.