For secure access to the VPN Uni (campus network in general) via SSL (so-called "SSL-VPN"), the kiz provides the Cisco Secure client, which can be used with the kiz account. Because of the simple installation and setup of this software, SSL-VPN is the standard procedure we provide for VPN access.
Download and configuration
For licensing reasons, the download is only possible after registration at the kiz Web-Services portal. The registration page appears automatically when you click on the following download links:
You can find the Cisco Secure client for iOS/iPadOS and Android in the respective app store.
Please do not install any additional modules included in the installation package ("Web Security", "Diagnostic and Reporting Tool" (DART) and "Posture"), the VPN basic module is sufficient.
Installation instructions
Install the Cisco Secure Client using the standard installation procedure (accept licence conditions, click "Next" to complete).
Installation:
During installation, only install the VPN basic module (package name VPN). Deselect all other packages.
Uninstalling:
Be sure to use the uninstaller for uninstalling (can be found via the Spotlight search or in the Cisco Secure Client programme folder).
Installation:
tar -xvzf secure-client-linux64.tar.gz
cd cisco-secure-client-linux64-x.xx.xxxxx/vpn/ (aktuelle Versionsnummer einsetzen)
sudo ./vpn_install.sh
Uninstalling:
sudo /opt/cisco/secureclient/bin/vpn_uninstall.sh
Connect to the VPN server of the University of Ulm (vpn.uni-ulm.de) and log in with your kiz account.
If you receive a certificate warning or the message "Untrusted VPN Server Blocked" when establishing a connection, do not accept this under any circumstances and report this to the Helpdesk immediately.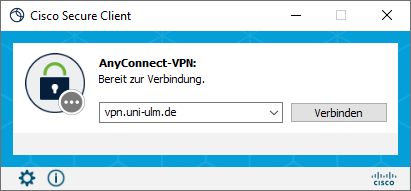 To terminate the connection, find the icon of the Cisco Secure client in the taskbar. Close the connection by clicking on "Disconnect".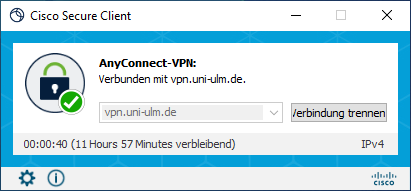 Communication and Information Centre (kiz)