Enter EDV contact person in ETB
All organizational units of the university (central scientific and operational facilities, institutes, etc.) must appoint an IT contact person. This ensures that a contact person can be contacted promptly and reliably, especially in the event of security-relevant incidents (cyber attacks, weak points in the configuration), disruption of general IT operations due to technical problems of a system operated by the institution or the like.
The ETB defines the organizational role "IT contact person" for this purpose, which can be assigned to an employee of the respective institution. The authorized persons of the institution (management, secretary's office, etc.) can make this assignment themselves and also change it again if necessary. If an employee with this role changes the institution or leaves the university, the institution's management is automatically notified by e-mail to appoint someone else for this role.
The following instructions describe how to make the entry in the ETB. It is assumed that you already have the necessary authorizations for the organizational unit.
If you log in to ETB and see the following block on the right side, then you are already an administrator of one or more organizational units.

Go to the "Search tree" menu item and search for the respective organizational unit by name.
Now click on the linked name of the respective organizational unit (see the underlined name in the image).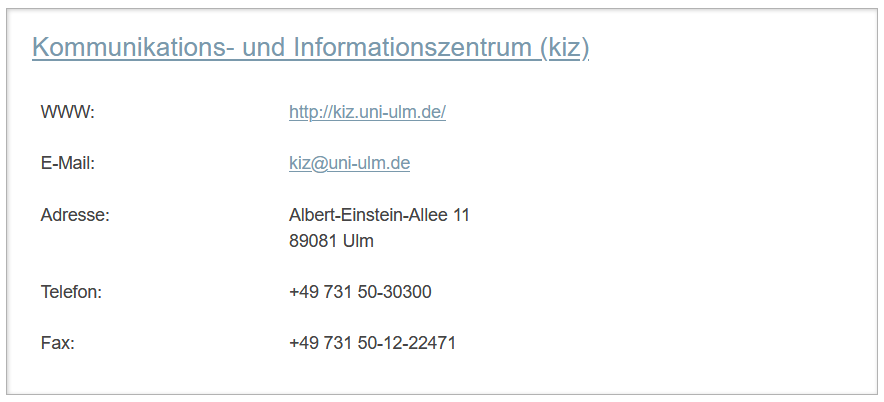 You should now be on the editing page. Scroll down until you discover the following block.

Select the desired organizational role (in this case, IT contact) and search for the person by name or e-mail address. Select the person in the selection window and then click the "Add" button.
Please note that the EDV contact person must at least be visible within the university and that the person must have an e-mail address or a telephone number on file. It is sufficient if the person can be found in the ETB with a telephone number or e-mail address.
Communication and Information Centre (kiz)