Using HandBrake on a Linux Computer
Reduce video clips for transport with the help of the "HandBrake" program.
It is assumed that you already have a video file with the desired content available. You will need a computer with the "HandBrake" program
The profile file provided by the kiz to the University of Ulm, for the proposed target format with a mixture of good quality and small file size:
You should know their location on your computer.
After installation and the first start of the program, you will be asked to specify the source file. You should cancel this dialog.
This means that the preparations are already complete.
Now you can select the source file which you want to reduce from the data volume.
The Movies folder is used as default. So you should store your source file in this folder.
You can also create subfolders here for structuring purposes.
Use the button in the program window [Open Source] to select the desired source file.
Now you should select the profile provided by the kiz in the Presets dialog (fig. 3).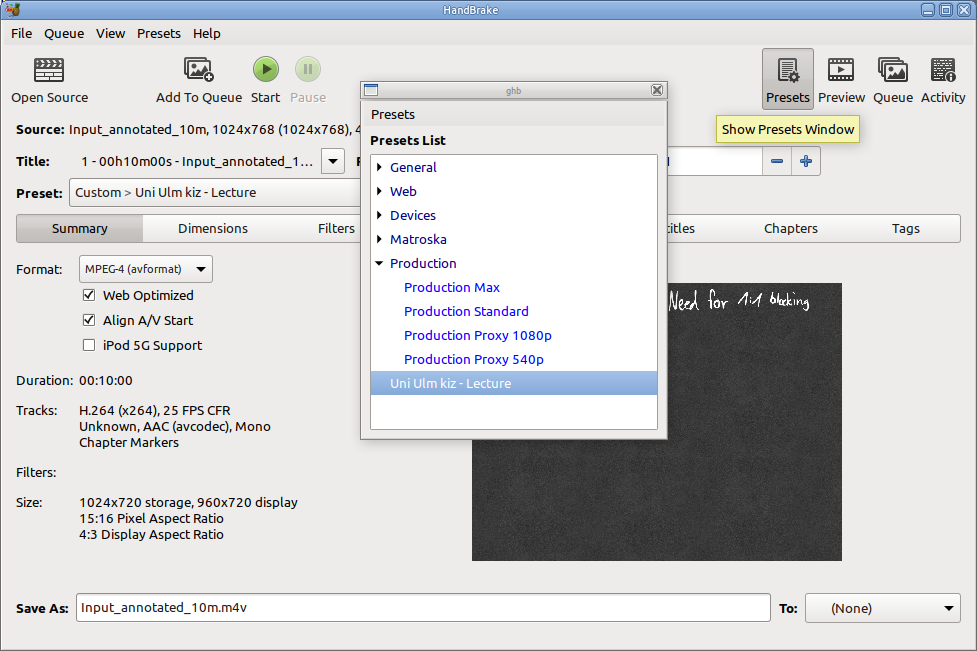 Afterwards, the target format in the "Size" hint field changes to the preset values.
In the "Save as" input field you can still select a suitable location or name for the target file.
You can start the conversion by pressing the [Start] button in the upper part of the program window.
Now the source file is converted into the desired target format (Fig. 4).

In the lower area of the program window, you can see, among other things, the time (ETA) that the conversion still requires at the end. This depends largely on the performance of the computer.
The file used in this example was reduced from 224.9MB to 18MB by the conversion.
Communication and Information Centre (kiz)